Taiwan's two major carriers rebounded to the black for the first quarter of 2022, as revenue growth outpaced rising operating costs.
This is the fourth consecutive profitable quarter for China Airlines and EVA Air, both of whom reported sharp increases in revenues for the quarter to 31 March despite a spike in coronavirus infections in Taiwan.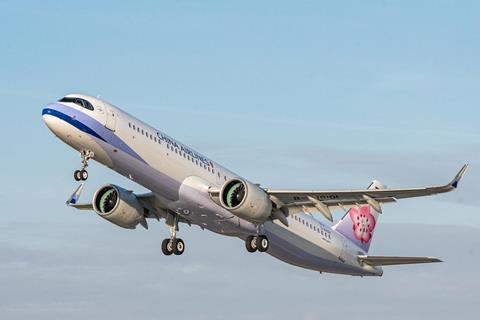 China Airlines reported an operating profit of NT$3.6 billion ($88.4 million) for the period, reversing its NT$469 million loss in 2021's first quarter. The SkyTeam carrier saw a 34% jump in revenue to NT$37.2 billion, outpacing a 21% increase in costs to NT$31.7 billion.
China Airlines reported a quarterly net profit of NT$3 billion, against 2021's NT$1 billion net loss.
As for EVA Air, it swung to a NT$4.2 billion operating profit in the quarter, reversing 2021's NT$1.8 billion loss. Revenue for the period increased 53% to NT$30.1 billion, while costs rose 23% year on year to NT$23.6 billion.
The Star Alliance carrier's net profit for the quarter was NT$3.3 billion, compared to the NT$2.2 billion net loss in 2021.
Neither carrier provided detailed analysis about their financial results in separate stock exchange filings.
It is, however, understood that cargo operations have lifted earnings through the pandemic. Both China Airlines and EVA Air have in the past few months announced plans to double down on freight operations with fresh orders for Boeing 777Fs.