The governments of Hong Kong and Singapore are continuing discussions over a quarantine-free travel bubble between the two cities that was delayed last year after Hong Kong experienced a surge in Covid-19 cases.
"Singapore and Hong Kong are in close discussions on the Air Travel Bubble. We will announce more details when ready," says Daniel Ng, director (air transport) at the Civil Aviation Authority of Singapore in a statement shared with Cirium.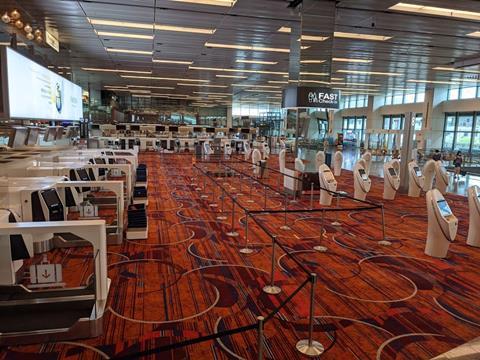 Hong Kong's Tourism Commission, a body under the city's Commerce and Economic Development Bureau, added separately that although the air travel bubble had been delayed due to the outbreak in Hong Kong, the governments of the two cities "have been in communication on this".
"As the global epidemic of Covid-19 continues, the government has been striving for the gradual and orderly restoration of cross-border exchanges between Hong Kong and overseas," it says in a Chinese-language statement sent to Cirium.
It adds that overseas economies that have a relatively stable Covid-19 situation and have close economic and trade relations with Hong Kong have proposed the establishment of travel bubbles, while balancing the need to protect public health.
Over the weekend, local Hong Kong newspaper the South China Morning Post cited an unnamed government source saying the authorities in both cities were in talks over the bubble.
That 20 February report added that it was still too early to say when the arrangement would begin. The newspaper's source added that both sides are discussing "additional safeguards" too.
While Singapore has managed to keep Covid-19 confirmed case numbers low since around the start of October, Hong Kong saw a "fourth wave" of infections in November. Cases began to decline again around the end of December, but spiked once more in the first few weeks of the new year, before declining again in February.
The travel bubble with Singapore, which would have allowed for quarantine-free travel between the two destinations along with Covid-19 tests on each end, had been set to begin on 22 November, with flights to be operated by the flag carriers of each city, Singapore Airlines and Cathay Pacific.
The two governments postponed the launch, however, after Hong Kong experienced that sudden surge in Covid-19 cases. The governments later announced that the bubble would not resume again until 2021.
The Chinese special administrative region relaxed some social distancing measures on 18 February, such as increasing the number of diners allowed at one table in a restaurant from two to four and extending restaurant opening hours from 6pm until 10pm.
The Hong Kong government takes a "suppress and lift" approach to controlling Covid-19 outbreaks, according to its official Covid-19 information website.
"The novel coronavirus may not go away and we will have to learn to live with it and adapt to the new normal. The public should be prepared that small-scale local outbreaks are inevitable from time to time. Social distancing measures may need to be tightened at times," it says.
Hong Kong has reported 10,868 confirmed cases of Covid-19 and 197 deaths, while Singapore has reported 59,869 cases and 29 deaths, according to data from Johns Hopkins University.