TAP Air Portugal's chief executive has welcomed the interest from Air France-KLM – and potentially others – in acquiring a stake in the Star Alliance carrier, as it reported its highest-ever third-quarter revenue and forecast a "good" full-year performance.
Speaking during an earnings briefing on 2 November, however, Christine Ourmieres-Widener cautioned that uncertainty over the outlook for next year makes it "ever more crucial" for the business to continue with its strategic transformation.
"It's the right plan and it's working," she states.
Nevertheless, "everybody should be very happy and proud to see that some external players are interested in this wonderful organisation", Ourmieres-Widener says following comments from Air France-KLM chief executive Ben Smith on 28 October that his group would "definitely engage on a formal basis" on a sale of TAP, and amid reports other European operators might be similarly minded.
"We will welcome network, we will welcome fleet, but we are not the ones who will decide who is the best bride," says Ourmieres-Widener, in reference to the Portuguese government's ownership of the carrier.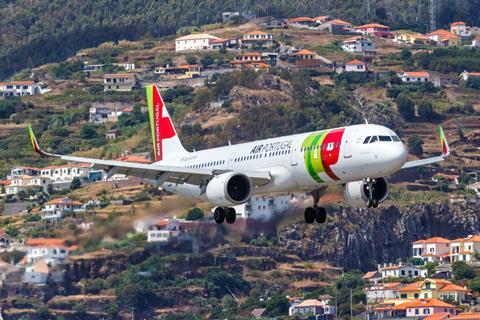 The government has expressed a desire to sell some or all of its holding in TAP, having taken back control of the business from a David Neeleman-led consortium in the early months of the Covid-19 crisis.
But while the interest from other airline groups "should be seen as positive news", Ourmieres-Widener cautions that it "doesn't mean that it's something that will happen tomorrow".
Her comments came as high yields and improved load factors helped the airline to third-quarter revenue of €1.1 billion ($1.1 billion) – some 7.5% above the same month in 2019.
That came despite "quite a difficult three months of summer… with significant operational disruption", Ourmieres-Widener says.
To TAP's advantage, it does not fly to Asia, meaning "our markets have been recovering faster than others", she states.
Recurrent EBIT of €152.7 million was also above pre-crisis levels and came despite high fuel costs.
The airline recorded a net profit €111.3 million for the period.
"Demand for Q4 remains very strong, guiding the expectation for a strong full-year result," Ourmieres-Widener says.
But she notes that "we still have a lot to be done" on the transformation of the business that began last year, backed by €3.2 billion in state aid – the last tranche of which is expected by the end of 2022.
"We have started the process on a new labour deal and we still have to work on our operational performance and customer service," Ourmieres-Widener says.
Of the headwinds being experienced by TAP and the wider industry, she adds: "The high cost of our fuel and also the fluctuation of foreign exchange has a very significant impact for us because a significant percentage of our cost structure is in dollars – the leasing of aircraft and fuel costs."
She expects those headwinds to continue to be a factor in 2023.
With 96 aircraft in its fleet as of 30 September this year, TAP expects to have 98 at the end of 2023, versus 105 in 2019.