Tata Sons has signed an agreement with the Indian government for its acquisition of state-owned carrier Air India.
"Share Purchase Agreement signed today by Government with Tata Sons for strategic disinvestment of Air India," tweeted the country's Department of Investment and Public Asset Management (DIPAM) on 25 October.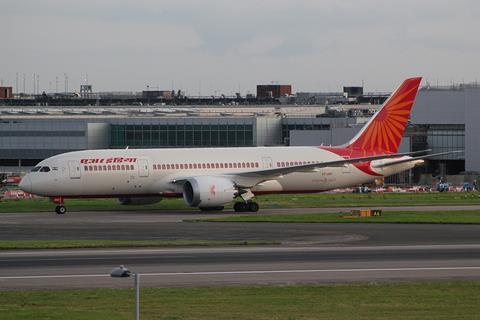 One objective of DIPAM, which is under India's finance ministry, is the sale of stakes in strategic businesses.
Announced on 8 October, the deal will see the Indian conglomerate – through its Talace special purpose vehicle (SPV) – obtain Air India for INR180 billion ($3.2 billion), of which it will pay INR27 billion in cash, while assuming INR153 billion of Air India debt.
New Delhi will place most of Air India's remaining INR463 billion debt into a government special purpose vehicle.
Tata Sons emerged as the winning bidder for the chronically-loss making airline after years of speculation about Air India's fate.
Indian media reports suggest that the government aims to complete the sale of the company by the end of 2021. In addition to Air India, Tata will obtain Air India Express and 50% of the SATS ground services unit.
Tata has not disclosed exactly what its strategic direction will be for Air India. Analysts have suggested that it will role Vistara, in which Tata Sons owns 51%, into Air India. It's not clear where this will leave Singapore Airlines, which owns 49% of Vistara.
Moreover, it's possible that AirAsia India and Air India Express will be merged to form a consolidated low-cost carrier.