Indian conglomerate Tata Sons is the winning bidder to acquired Air India, according to a report by Bloomberg.
The report, quoting unidentified sources, says that New Delhi selected Tata ahead of a rival bid from Ajay Singh, managing director and chairman of SpiceJet.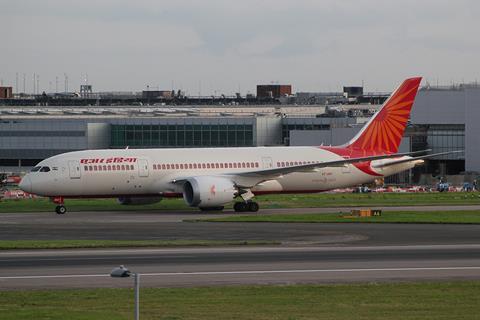 Bloomberg adds that a formal announcement could be made in the "coming days".
FlightGlobal has reached out to both Air India and Tata Sons for confirmation.
In mid-September, India's Department of Investment and Public Asset Management had said that Tata Sons was among the bidders for the airline, which has struggled for some years.
If the report is confirmed, it will see Tata reclaim an airline it started in 1932 as Tata Airlines. The Indian government nationalised the carrier in 1953.
Tata Sons is still heavily involved in the airline sector. It owns 51% of Vistara, with Singapore Airlines holding the other 49%. It also owns a 49% stake in AirAsia India. The company's Tata's Advanced Systems is a significant player in the aerostructures space, mainly with military programmes.
Analysts have long believed that Tata would eventually acquire Air India. There is a view that following a successful bid it will merge Air India with Vistara, while merging Air India Express with AirAsia India.