Thai AirAsia has extended its domestic flight suspension for more than a week, as Thailand battles its worst-ever wave of coronavirus infections.
The suspension will now last through 8 August, instead of 31 July as previously disclosed, says the Thai unit of the AirAsia Group.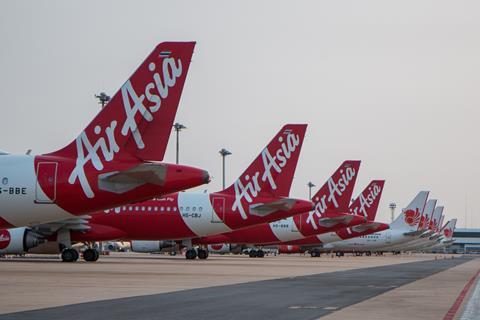 "We will continue to monitor the situation closely and will be prepared to reinstate our scheduled flight services again as soon as possible," the carrier adds.
Low-cost carrier Nok Air, meanwhile, announced a "partial suspension of operations due to force majeure" from 1 August. This follows domestic capacity cuts imposed for July, it adds.
Nok, which is undergoing a business rehabilitation process, did not elaborate what the partial suspension meant, except to say it will "utilise all remedial measures and hope that the situation will recover to normal soon".
Thailand has mandated its airlines to suspend commercial passenger flights to and from "dark red" zones, which are provinces classified as having the highest infection risk, starting 21 July. Capital Bangkok and its immediate surrounding provinces have been identified as "dark red" zones.
Since that announcement, Thai Smile, the regional unit of flag carrier Thai Airways, announced it was suspending all domestic flights through 3 August. Thai Airways itself has also suspended several domestic flights until September.
Thailand reported a record number of new infections — at more than 16,000 — as of 28 July, bringing its total number of cases to more than 540,000.
To cope with the unprecedented surge in cases, a cargo warehouse at Bangkok's Don Mueang airport has been converted to a 1,800-bed field hospital for patients displaying less severe symptoms.
Separately, the Civil Aviation Authority of Thailand (CAAT) has given the green light for U-Tapao airport in Pattaya to accept commercial flights.
It states that since Bangkok has been classified as a high-risk zone, its two airports — Suvarnabhumi and Don Mueang — are "highly-restricted and controlled areas", which limits the number of flights it can handle.
To this end, the CAAT has allowed some of these flights into U-Tapao airport until 30 October, provided these are routes with less than 100,000 passengers a year.
The move will help "alleviate the financial impact" on local airlines "to maintain their financial status", states the CAAT, among other reasons cited.