Thai low-cost carrier Thai AirAsia has warned that the third wave of coronavirus infections in April will impact its profitability, as it sank deeper in the red amid plunging revenue.
In financial results for the quarter ended 31 March, Thai AirAsia parent company Asia Aviation also forecast international flying to resume by the fourth quarter of the year, with the carrier reaching full capacity by early 2022.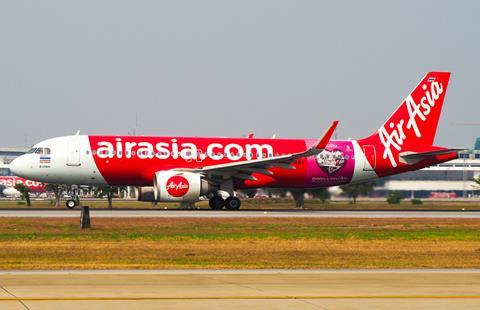 Asia Aviation reported a quarterly operating loss of Bt3.2 billion ($102 million), deepening the Bt1.37 billion loss it reported in the same quarter last year.
Revenue plunged about 86% year on year, to Bt1.35 billion, outpacing the drop in costs, which fell 58% year on year to Bt 4.56 billion.
Thai AirAsia carried just 980,000 passengers in the quarter, a 78% drop year on year. RPKs plunged 82%, while capacity shrank 79%.
The carrier offered just under 1.5 million seats for the period, 73% lower than the same quarter last year.
In its outlook, Thai AirAsia warns that the April surge in coronavirus cases "would impact" its second-quarter earnings.
"These infections are more severe than the previous waves and affect tourism recovery in Thailand, leading to lower travelling demand," it adds. To this end, Thai AirAsia states that it would be rationalising capacity across its network to maximise profitability.
"Thai AirAsia plans to fuel revenues from charter cargo flights and explore new initiatives for non-airline business such as selling hotel room, fresh food, and e-commerce," the Thai unit of the AirAsia Group adds.
Asia Aviation in late April disclosed a corporate and capital restructuring plan for Thai AirAsia, which will involve a listing on the Stock Exchange of Thailand (SET) to accept a Bt3.15 billion loan from a new investor.