Bangkok-based long-haul, low-cost carrier Thai AirAsia X has filed for business rehabilitation, though it stresses its daily operations will not be affected by the process.
The airline on 19 May says the objective of business rehabilitation "is to revamp the company's administration process and restructure its debts, delivering greater efficiency and a solid platform for robust future growth after weathering the Covid-19 pandemic".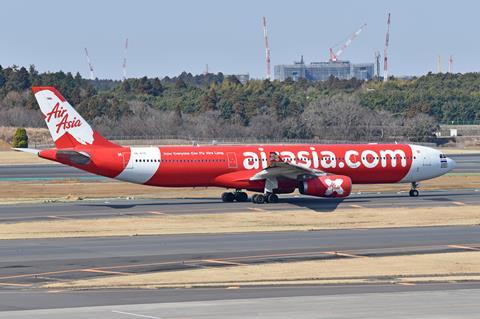 It adds that its application was approved by the Thai Central Bankruptcy Court on 18 May. It did not state when it expects the process to wrap up.
The move comes as the carrier begins to restart its international network, after being grounded for nearly two years of the pandemic, when borders were mostly shut.
Thai AirAsia X notes that the rehabilitation process will not impact its decision to resume flights to South Korea and Japan, which were due to commence from June. The airline adds it has "further plans for expansion" in the near- to medium-term.
Airline chief Patima Jeerapaet says: "Thai AirAsia X has entered into rehabilitation at an appropriate time with tourism recovering and the nation reopening. We assure that this process will have no impact on our services of passengers or flight plans during this process."
The carrier is the latest Thai carrier to file for business rehabilitation, following compatriots Thai Airways and low-cost carrier Nok Air.
Sister unit AirAsia X, which is based in Malaysia, itself entered debt restructuring during the pandemic, though it has completed the process in March, and is in the process of resuming operations.
Thai AirAsia X says the restructuring process will affect operations of Thai AirAsia or parent Asia Aviation, both of which are "separate entities with discrete operations and routes".