Thai Airways International has received the Central Bankruptcy Court's approval for business rehabilitation and targets to hold a creditors' meeting early next year.
The court has also accepted and appointed the airline's nominations for rehabilitation planners, Thai says in a statement today.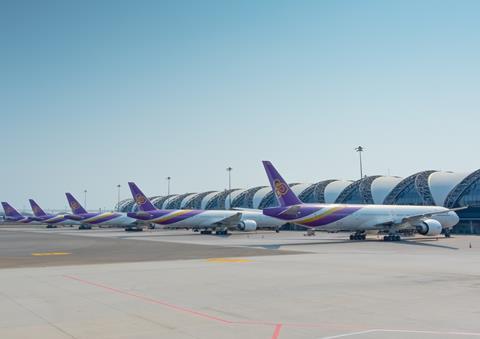 Besides EY Corporate Advisory Services, the planners are chairman of Thai Airways' board Chaiyapruk Didyasarin, along with five other board members: Chakkrit Parapuntakul, Pirapan Salirathavibhaga, Boontuck Wungchaeroen, Piyasvasti Amaranand, and Chansin Treenuchagron. Treenuchagron is also Thai's acting president.
In the next step, planners will prepare the business reorganisation plan "as soon as possible" and Thai expects to present this to the court within the final quarter of 2020.
Thereafter, it will call for a creditors' meeting around early 2021 and seek their opinions. The airline targets for the court to approve the plan and appoint an administrator within the first quarter of 2021.
The court's latest approval for Thai's rehabilitation process and planners for this process marks the start of a one-month time frame for creditors to submit a formal debt repayment application to Thailand's Legal Execution Department.
Customers who have applied for a ticket refund are also considered the airline's creditors, but Thai says its planners will prepare "an inclusive business reorganisation plan which supports the right of [such customers] before the order of the business reorganisation is granted". Accordingly, customers could be entitled to repayment without having to file the application.
Separately, customers who have opted for a refund may opt to receive a travel voucher valid until the end of 2022.
"In the next step, Thai will prepare a business reorganisation plan and will update the creditors on a progress and invite them to share their opinions in due course," the airline says in today's statement.
"Thai pledges to fulfil its commitments to all creditors under the business reorganisation process and hopes to promptly resume its full flight services and strong business operations as a national flag carrier."