Thai Airways International's creditors have approved its rehabilitation plan at a 19 May meeting.
"Among the creditors, those who hold 91.56% of the total debt of creditors who attended the meeting and casted votes, accepted the rehabilitation plan that the planner submitted to the official receiver on 2 March 2021 [as well as] three plan amendment petitions," the airline said in a 19 May filing to the Stock Exchange of Thailand.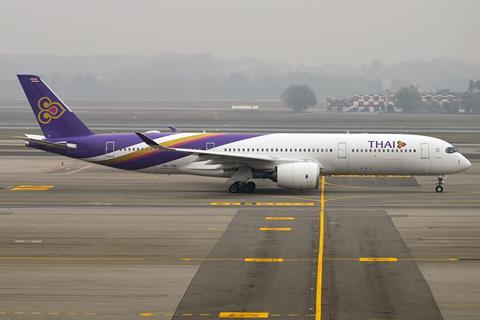 It adds that the three amendment petitions were proposed by the airline's rehabilitation planners as well as creditors Bangkok Bank and the Federation of Savings and Credit Cooperatives of Thailand.
Thai's rehabilitation planners prepared the rehabilitation plan and as of 14 September, the planners comprise six individuals along with EY Corporate Advisory Services appointed by Thailand's Central Bankruptcy Court.
The same filing also names five plan administrators, and among them, the airline's acting president Chansin Treenuchagron and independent director Pirapan Salirathavibhaga are also the airline's rehabilitation planners.
The Central Bankruptcy Court has scheduled a hearing to consider the rehabilitation plan on 28 May.
The creditors' meeting, initially scheduled for 12 May, was postponed by one week to 19 May at the request of 20 creditors, who represented more than one-tenth of the total debt of creditors who attended the meeting.
The creditors had requested for the additional time to consider amendments and proposals to the rehabilitation plan, Cirium reported.
Thai submitted its rehabilitation plan on 2 March after being granted two one-month deadline extensions, the maximum allowed under Thailand's Bankruptcy Act.