Thai Airways International's losses deepened and revenues plummeted in the third quarter ended 30 September as the impact of the Covid-19 pandemic on its operations continued to be felt.
The Thai flag carrier and its subsidiaries reported an operating loss of Bt15.6 billion ($515 million), more than five times the loss of Bt2.84 billion it reported in 2019's corresponding quarter.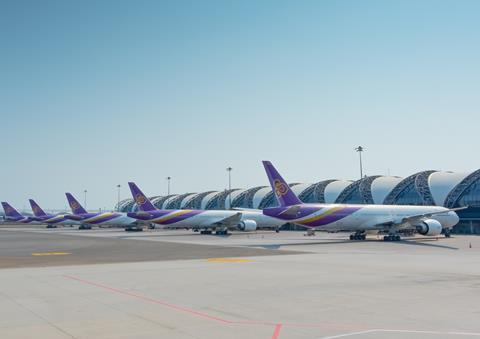 Net losses in the third quarter deepened to Bt21.5 billion, from Bt4.68 billion in the same period last year.
Total operating revenues were drastically down in the July to September period, dropping 91.7% to Bt3.72 billion.
The airline and its subsidiaries flew less than half a million passengers in the third quarter, compared with over 6 million a year prior.
ASKs dropped 95% to 1.13 billion, while RPKs dropped 97.8% to 393 million. Load factors were only 34.9%, compared with 80% in the corresponding quarter. Passenger yields, however, rose 58% to Bt3.05.
Aircraft flight hours were down 92.3% to 7,959h, while aircraft utilisation dropped 77.6% to 2.6h.
Thai Airways says that in the third quarter it "continued to strengthen the measures to reduce costs and mitigate the impact of the Covid-19 situation from the previous quarter, especially by reducing personnel expenses while still reducing salaries of senior management compensation".
It adds that it has asked for "co-operation" from employees to take leave without salary or compensation. The airline also "halted investment and delayed procurement", as well as sought to reduce costs not related to "operations, safety and rules prescribed by law".
It also brought in revenue by providing an on-the-ground dining experience, as well as to allow "interested people" to try out its flight simulators.
Thai Airways' auditor, Deloitte Touche Tohmatsu Jaiyos, declined to sign off on the results, saying it "does not express a conclusion" on them due to the "uncertainty" of the carrier's ability to continue as a going concern.
The airline is restructuring under business rehabilitation protection, after receiving approval for the process from Thailand's Central Bankruptcy Court on 14 September.
Besides the rehabilitation process, Deloitte cited Thai's lack of liquidity and "significant current liabilities" as another reason for its assessment, as well as the uncertainties of the Covid-19 pandemic on the airline's operations.