Thai Airways International is gauging market interest for two of its Airbus A380s.
The flag carrier issued on 11 March a request for indication of interest in the Rolls-Royce Trent 900-powered superjumbo pair (MSNs 125 and 131), which were manufactured in 2013 and have clocked up 30,645 and 29,639 flight hours, respectively.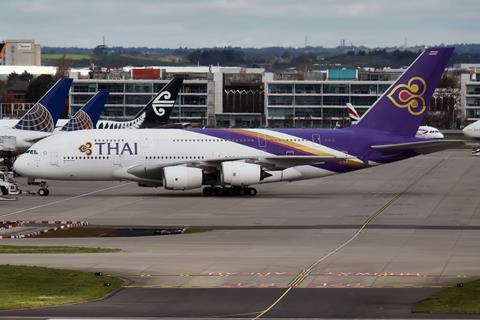 Both aircraft have 12 seats in first class, 60 seats in business class and 435 seats in economy class. They are located at U-Tapao International airport.
Cirium fleets data shows that Thai Airways has six A380s in its fleet, all fitted with Trent 900 powerplants. All six aircraft are managed by the airline and none are leased.
Thai Airways said on 11 March that its request for indication of interest in MSNs 125 and 131 is "part of a market survey being conducted by Thai to identify potential bidders who may be interested in buying the used passenger aircraft and does not intend to and should not be treated as a formal offer to sell the aircraft by Thai".
Thai Airways says interested parties should submit their proposals "as soon as possible and in any event" by 25 March.
The airline also notes that it is in the process of preparing its rehabilitation plan and, subject to a court order approving that plan, it will officially invite bidders to submit "official proposals" in respect of the used passenger aircraft.
Last month, Thai Airways sent out a similar communication to assess interest from buyers for ten Boeing 747-400s and, separately, for five CFM International CFM56-3C1 spare engines.
The airline's rehabilitation planners, a team of six people plus EY Corporate Advisory Services tasked with drawing up a plan to return the carrier to profitability, submitted that plan to the Central Bankruptcy Court on 2 March.
Shortly after, Thai Airways briefed its lessors, giving them a general overview of how it plans to restructure, including information on fleet plans, reductions in staff costs and when the airline expects to return to profitability.