Embattled Thai Airways has disclosed that it expects to become profitable again from 2023 and return to positive equity by 2030.
The carrier, which is undergoing business restructuring, disclosed this as part of guidelines it issued to address a potential delisting from the Stock Exchange of Thailand (SET).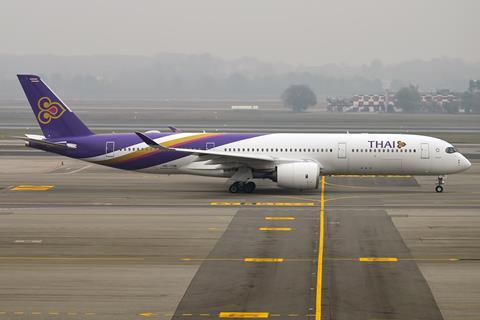 SET guidelines state that a company risks delisting if it reports negative equity. Thai's shareholder equity for the year ended 31 December 2020 fell to negative Bt129 billion ($4.14 billion), as the carrier, already in weak financial shape, was badly impacted by the coronavirus outbreak.
The SET has stated that companies with negative equity should resolve possible grounds for delisting within three years. Given that Thai only expects to return to positive equity in 2030, it is likely to have missed the deadline.
"In this case, it may result in the SET proposing the SET's Board of Governors to consider possible delisting of Thai," it discloses.
The Star Alliance carrier was given the green light by the Thai government last May to restructure under court supervision, and submitted its business rehabilitation plan on 2 March this year.
Thai acting president Chansin Treenuchagron says the carrier has a capital and debt restructuring plan in place, which will primarily involve a capital increase, and the option of debt-to-equity conversion that will be offered to its creditors.
The move, he adds, will increase shareholder equity and decrease its debts.
A business transformation plan, led by a newly-minted chief transformation officer, will also be implemented, Treenuchagron adds. These include measures such as fleet and network reductions, "downsizing the organisation", as well as negotiations on aircraft leases.
Thai has said in early March that it aims to operate under a new vision post-rehabilitation: "A private high-quality full-service carrier with a strong Thai brand, connecting Thailand to the world and consistently generating a sustainable profit margin".