Thai Airways International's submission of its rehabilitation plan is being delayed a second time after it won approval to submit the plan an additional month later.
The flag carrier disclosed in a 27 January update that Thailand's Central Bankruptcy Court has approved its request for a further extension of the submission deadline to 2 March. Thai had indicated on 26 January that it was considering seeking another extension, having already extended the deadline once from 2 January to 2 February.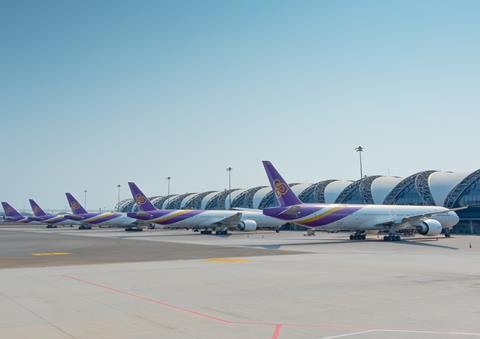 Thai says the further extension is "due to a need to put together the comments and suggestions from several groups of creditors on the principle of the draft rehabilitation plan in order to prepare a complete and comprehensive rehabilitation plan to ensure that the rehabilitation plan will receive the approval of the creditors' meeting".
"Moreover, as the rehabilitation plan contains several important aspects, the production of the rehabilitation plan is therefore highly important and requires thorough consideration from the relevant persons and all interested parties."
Once the rehabilitation plan is complete, the official receiver will send a copy of the plan to creditors for their consideration and approval in a creditors' meeting, a process that could take around one and a half months, Thai said on 26 January. Once creditors have approved it, the Central Bankruptcy Court must give a final verdict.
The extension to 2 March is the last extension permitted by law under Thailand's Bankruptcy Act. Section 90/43 of that act states that the court may grant an extension on "not more than two occasions and for a period not exceeding one month for each occasion", according to an unofficial translation of the act by Thailand's Office of the Council of State.
If the Central Bankruptcy Court is satisfied with Thai's plan, it will issue an order approving it and appoint plan administrators.
Thai says: "The company will then proceed with the rehabilitation plan and communicate the progress of the rehabilitation including any other further developments."