Thai Airways International posted an operating loss of Bt21.5 billion ($658 million) for the first nine months of 2021, an improvement on its operating loss of Bt34 billion for the first nine months of 2020.
Operating revenues at Thai and its units fell 66.1% year on year to Bt15 billion, with passenger and excess baggage revenue diving 92.2% to Bt2.5 billion, according to the carrier's nine-month result statement for the period to 30 September. It did not break out a quarterly figure for the July-September period.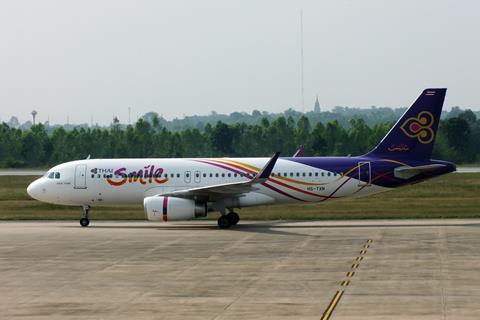 The only operating metric that saw an improvement was freight and mail revenue, which rose 10.9% to Bt6.4 billion.
The improvement in Thai's operating performance stemmed from its halving of total operating expenses to Bt36.5 billion.
Despite the poor operating performance, the airline posted a net profit of Bt51 billion due mostly to a series of one-off items, including asset sales and a Bt60.7 billion gain from debt restructuring.
Thai carried 820,000 passengers in the first nine months of 2021, down 83.8% from a year earlier. ASKs fell 70.7%, and RPKs fell 93.9%. Load factors fell 53.1 percentage points to 13.9%.
On the cargo front, Thai's freight yield shot up 81.2%, with freight load factors rising 43.5 percentage points to 99.7%. Still, overall cargo carried declined 44.7% to 83,000t, as the airline's overall freight capacity declined 65.2%.
Cash burn remains a challenge. In the first nine months of 2021, Thai had a negative operating cash outflow of Bt7.9 billion, even worse than Bt7.2 billion a year earlier.
Thai adds that a resurgence of the coronavirus pandemic in the middle of the year resulted in an emergency decree, which greatly hurt domestic air travel. This saw unit Thai Smile actually cease operations until 1 September, when it was only allowed to operate from 0900-1600 and using only 75% of capacity.
Thai adds that work continues on its restructuring programme. Key elements include simplifying the organization and reducing costs across the board, while focusing on areas that can generate revenue, including cargo and repatriation flights. It also involves an extensive capital restructuring, and repaying debts.
Consolidated cash and cash equivalents as of 30 September stood at Bt5.4 billion as of 30 September, down from Bt11.1 billion a year earlier.
As of 30 September, Thai had an active fleet of 103 aircraft, of which 20 are Airbus A320s in service with Thai Smile.
The airline also has 13 decommissioned aircraft, and is trying to sell three A340-500s, six A340-600s, one A300-600, and three Boeing 747-400s.