Embattled Thai Airways has put up its entire Boeing 747 and its 777-200/300 fleet up for sale, as it aims to raise cash amid a long-drawn business rehabilitation process.
The Star Alliance carrier disclosed on its aircraft trading website that 34 aircraft from its fleet will be put up for sale. Of these, 10 are 747-400s, six are 777-200s and another six are 777-300s.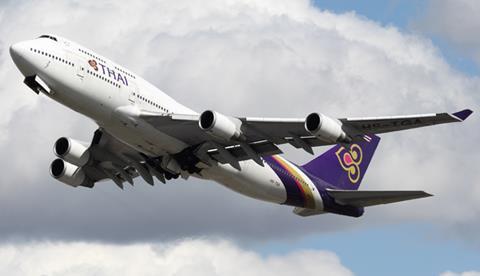 The other aircraft include six Airbus A340-600s, which the carrier has not operated since 2015, and another three A340-500s, which it flew until 2012. Two 737-400s and one A300-600 round up the list of aircraft on sale.
Thai states that the aircraft offered for sale are on an "as-is, where-is" condition, with most expected deliveries to take place in the second quarter of next year.
The 10 747s (MSNs 26609, 26610, 27724, 27725, 28705, 28706, 32369, 32370, 33770 and 33771) are powered by GE CF6 engines and were manufactured between 1993 and 2003. They remain in storage, according to Cirium fleets data.
The 777-200s (MSNs 27726, 27727, 27728, 27729, 27732 and 27733) were built between 1996 and 1998, and are powered by Rolls-Royce Trent 875 engines. Thai's 777-300s (29150, 29151, 29211, 29212, 29213 and 29214) are fitted with R-R Trent 890s and were built between 1998 and 2000.
Cirium fleets data shows the carrier has only 11 aircraft in service, with 85 in storage. Thai has a varied fleet, ranging from A330s, A380s and 787s.
Thai filed for business reorganisation in May, as it acutely felt the impact of the coronavirus outbreak. Already in a precarious financial situation, the pandemic saw travel demand collapse, and widened the airline's losses.
Thailand's central bankruptcy courts gave the troubled carrier the green light to reorganise in September, allowing it to appoint its rehabilitation organisers.