Thai AirAsia parent Asia Aviation saw revenues drop sharply and operating losses balloon in 2021, as it continued to grapple with travel restrictions related to the coronavirus pandemic.
Operating losses for the 12 months ended 31 December 2021 widened to Bt11.9 billion ($367 billion) compared with Bt7.6 billion in 2020, says Asia Aviation in its full-year results statement.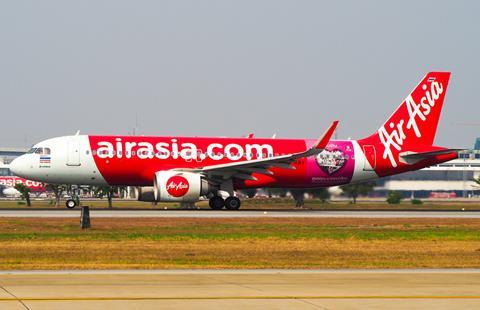 Revenue for the year collapsed, falling 76% to Bt4.5 billion, while full-year net losses widened to Bt12 billion compared with Bt8.7 billion a year earlier.
The company attributed the dismal showing to Covid-19 outbreaks over the course of the year, namely the Delta and Omicron variants. It notes that the suspension of Thailand's 'Test & Go' scheme for vaccinated travellers amid the Omicron outbreak was particularly disruptive.
Over the course of 2021, Thai AirAsia carried 2.93 million passengers, down 69% from 2020. Capacity as measured by seats fell 66%, and by ASKs fell 70%. RPKS declined 73% from a year earlier, load factors fell seven percentage points 68%.
CASK climbed 97% in 2021 from a year earlier, while CASK ex-fuel quadrupled.
Thai AirAsia's aircraft utilization was low in 2021, at just 5.6h per day for active aircraft compared with 7.4h in 2020.
As of 31 December 2021, Asia Aviation's cash and cash equivalents stood at Bt5.3 billion, up from Bt1.1 billion a year earlier, with the increase largely due to fundraising activities during the year.
As for the fourth quarter, operating losses nearly doubled to Bt2.1 billion from Bt1.3 billion a year earlier, while revenues more than halved to Bt1.6 billion.
Looking forward, Asia Aviation hopes to fully restore Thai AirAsia's domestic network in 2022 owing to improving demand. It projects that it will carry 12.3 million passengers this year, mainly due to more local and international tourists.
The airline has no plans to receive new aircraft in the near term, and will return leased aircraft when their leases expire. It aims to have 53 aircraft at the end of 2022. Cirium fleets data indicates that Thai AirAsia has 60 A320 and A320neo family, of which 28 are in service and 32 in storage.
"This downsizing in its fleet size aligns with the forecasted demand from the impact of the COVID-19, which will take time to return to normal," says Asia Aviation.