All Nippon Airways parent ANA Holdings sharply narrowed its operating loss in the first quarter of its 2022 financial year.
For the three months ended 30 June, ANA Holdings posted an operating loss of Y1.3 billion yen ($9.8 million), a major improvement over its operating loss of Y64.6 billion a year earlier, according to the company's financial results.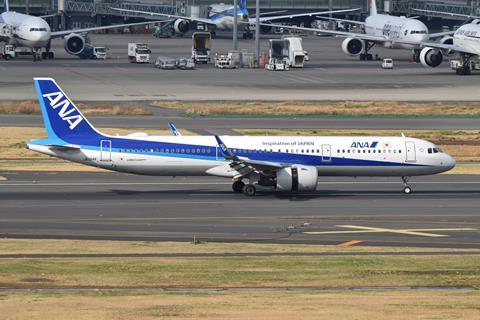 Revenues jumped 76.1% to Y350 billion, as ANA Holdings swung to a small net profit of Y1 billion compared with a net loss of Y51.1 billion a year earlier.
"We are pleased to see the results of the first quarter with the increased passenger demand for domestic and international travel, and increased revenue in all of our business segments," says chief financial officer Kimihiro Nakahori.
"These results are a demonstration of the committed efforts by the global ANA team and helps to position us to continue to meet our customers' needs amid this challenging operating environment."
ANA adds that passenger demand is "rapidly recovering" amid the easing of domestic travel restrictions, as well as the gradual removal of entry restrictions internationally.
For international passenger service, revenues grew nearly five-fold year on year to Y62.2 billion, with passengers carried jumping to 684,000 from just 131,000. ASKs rose 37.4% and RPKs grew nearly five-fold. ANA's international passenger load factor improved sharply, rising 51 percentage points to 70.7%.
As for domestic passenger services, revenues doubled to Y102 billion, with the number of passengers carried doubling to 6.6 million. Domestic ASKs rose 58.8% and RPKs doubled. Domestic load factors also improved, rising 11.2 percentage points to 53.9%.
"With no State of Emergency or quasi-emergency measures in place during the first quarter for the first time in three years, leisure demand improved steadily, while business travel gradually increased as well," says ANA of its domestic performance.
Although international cargo volume fell 7.4%, revenues jumped 43.5% to Y94.7 billion.
ANA attributes lower cargo volume to the cancellation of flights to Europe owing to Russia's invasion of Ukraine and reduced demand for automotive parts. The improved revenue stemmed from higher unit prices for cargo as well as continued snarls in marine transport. In addition, it has expanded cargo operations on "highly profitable" North American routes, and sought to "capture high-yield cargo such as oversized commercial products."
As of 30 June, cash and cash equivalents stood at Y623 billion, down from Y629 billion a year earlier. ANA Holdings adds that operating cash flows exceed Y100 billion in the quarter – a level not seen since before the coronavirus pandemic started in early 2020.