The Cathay Pacific Group saw operating profit for 2019 shrink, following a worse-than-expected second-half result that was affected by political turmoil in Hong Kong.
For the year ended 31 December 2019, the group reported an operating profit of HK$3.4 billion ($437 million), a 4.3% decrease compared to 2018.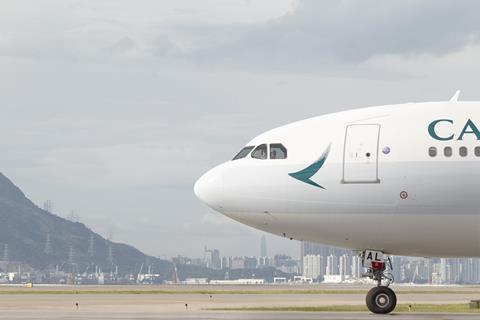 Revenue for the year fell 3.7% to HK$107 billion, led by slumps in its cargo business. Meanwhile, expenses dipped 3.6% to HK$104 billion.
Attributable net profit for the period came in at HK$1.69 billion, a drop of 27.9% year-on-year.
During the year, Cathay Pacific and Cathay Dragon saw ASKs grow 5.1%, while RPKs climbed 2.9%. Passenger load factor slipped 1.8 points consequently.
Passenger yield, which Cathay says came "under intense pressure" during the year, fell 3.9%. This was due mainly to a stronger US dollar, intense competition, and reduced demand in the second-half of 2019. The two carriers also carried 0.7% fewer passengers in 2019 compared to a year earlier.
Calling 2019 a "turbulent year", Cathay group chairman Patrick Healy notes that while its three-year transformation programme – which swung the group back into the black for 2018 – bore fruit in the first half of last year, events in the second half of the year led to an "incredibly challenging" operating environment.
Since June last year, Hong Kong saw growing political unrest over a now-shelved extradition bill. Protests hit fever-pitch in August, when, among other things, protestors stormed Hong Kong airport, halting operations on two occasions.
That, coupled with mounting US-China trade tensions, led to a sharp drop in demand for both inbound and outbound passenger traffic. Cathay has had to trim capacity for most of the second-half of the year.
Cathay has traditionally seen stronger results in the second-half of the year, Healy notes, but for 2019, it "fell well below what we would have hoped for".
During the year, Cathay took delivery of six new Airbus A350 aircraft and three used Boeing 777-300 aircraft. It retired three 777-200 aircraft, and returned four A330-300s and one 777-300ER to their respective lessors.
The group, which also comprises newly-acquired low-cost subsidiary HK Express and cargo carrier Air Hong Kong, ended the year with 236 aircraft. It is also aiming to take delivery of 70 new aircraft by 2024.
The coronavirus outbreak, which began spreading in January this year, will take a toll on its 2020 results, Cathay adds.
"We expect our passenger business to be under severe pressure this year and that our cargo business will continue to face headwinds," says Healy.