All inbound, outbound and transit passenger flights to and from the United Arab Emirates – home to one of the world's busiest hubs – are to be suspended for two weeks.
The UAE's National Emergency Crisis and Disasters Management Authority (NCEMA) and General Civil Aviation Authority (GCAA) has announced that passenger flights to, from and through the country will be suspended from 25 March for a period of two weeks, in order to "curb the spread of the Covid-19".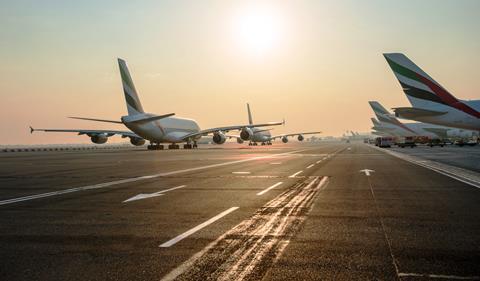 Freight and emergency evacuation flights will still be permitted to operate.
The suspension affects major global hubs in Dubai and Abu Dhabi. Dubai-based Emirates has already announced that it will suspend most of its passenger flights from 25 March.
Etihad Airways has since confirmed it is supending all flights to and from Abu Dhabi International Airport from 23:59 (UAE local time) on 25 March, and will last for an initial 14 days.
Etihad group chief executive officer Tony Douglas says: "These are unprecedented times and unprecedented decisions are being made by governments, authorities and companies, including Etihad, to contain the spread of the coronavirus and to help minimise its effects around the world."
NCEMA and the GCAA add: "Additional examination and isolation arrangements will be taken later should flights resume, in order to ensure the safety of passengers, air crews and airport personnel and their protection from infection risks."
Dubai International Airport was the third-busiest airport in the world in 2018, handling 89 million passengers.
This story has been updated to add confirmation Etihad Airways has suspended flights