United Airlines' president Scott Kirby will take over the chief executive role in May 2020, at which point current incumbent Oscar Munoz will become executive chairman of the US carrier's board.
Kirby joined Chicago-based United in 2016 after resigning as president of American Airlines, where he had reported to chief executive Doug Parker. Kirby had begun working with Parker in the mid-1990s and continued the working relationship with him at US Airways when it merged with America West, and then at American after its merger with US Airways.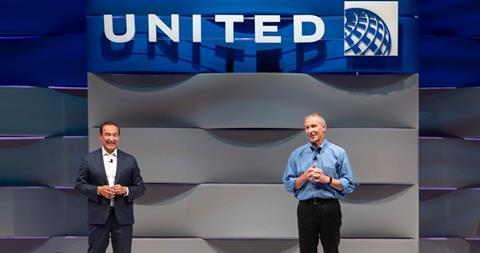 Media speculation earlier this year had suggested that Kirby might succeed Parker at American.
Munoz became United's chief executive in September 2015 after the departure of Jeff Smisek.
"With United in a stronger position than ever, now is the right time to begin the process of passing the baton to a new leader," states Munoz. "One of my goals as CEO was to put in place a successful leadership transition for United Airlines. I brought Scott to United three years ago, and I am confident that there is no one in the world better equipped to lead United to even greater heights."
Also in May 2020 United board member Ted Phillip will become lead independent director while Jane Garvey, who currently chairs the board, is to retire.
On 3 December, United ordered 50 Airbus A321XLR jets. The long-range narrowbodies will be used to replace older models and to expand on transatlantic routes.