United Airlines has begun offering free coronavirus tests for customers travelling from the carrier's New York-area hub to London.
Customers booked on the Chicago-based carrier's evening flight from Newark Liberty International Airport to London Heathrow on 16 November were the first to experience the free rapid testing pilot programme. The airline uses the Abbott ID Now Covid-19 test.
"The airline provided rapid tests to every passenger over two years old and all crew members on board, free of charge, guaranteeing everyone [over two years old] on the flight tested negative prior to departure," the airline says.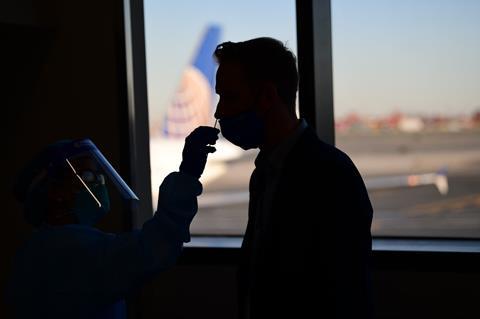 The pilot programme for United's flight number 14, which departs Newark at 19:15 local time on Mondays, Wednesdays and Fridays, will continue for four weeks. Passengers booked on these flights will be informed ahead of time of their mandatory participation in the trial. Those who opt out will be accommodated on other flights, United says.
The carrier has invited governments to observe the testing and "assess its effectiveness as an alternative to mandatory quarantines and travel restrictions". It hopes to offer the results as a "proof-of-concept for governments around the world that are considering making testing part of the travel experience," says the airline's chief customer officer Toby Enqvist.
Airlines and trade organisations have been pushing for an expanded and internationally accepted testing scheme to replace travel restrictions which have hindered a meaningful recovery of the global air transport industry.
Numerous countries still require 14-day quarantines for inbound passengers from other nations or regions that are deemed high-risk due to uncontrolled virus spread.
Even within the USA, some parts of the country, including the area around New York City, require a two-week self-isolation period if the passenger is not able to show a negative test result less than 72h prior to arrival in that region.
Since this is a trial programme, United says all customers on these flights to the UK will still be subject to current UK entry requirements, which still include that 14-day isolation period.