United Airlines expects its adjusted operating margin to top 2019 levels for the first time in the fourth quarter after reporting a strong three months ending 30 September in which revenues were 13% above pre-pandemic levels.
The Star Alliance carrier posted revenues of $12.88 billion for the third quarter. That marked an increase of more than $5 billion on the same quarter last year and was $1.5 billion up on the same period in 2019. It also took nine-month revenues fractionally above 2019 to $32.55 billion – and was double its revenues at the same stage of last year.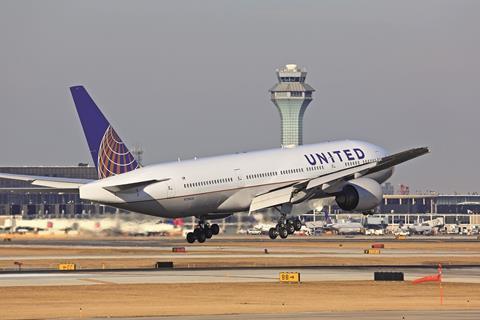 The higher revenue was achieved on third quarter passenger levels still 10% below 2019, but with load factor a point higher at 87.1%
United's operating profit of $1.46 billion came in just shy of the $1.47 billion it reported in the third quarter of 2019, while its third quarter net profit of $942 million was 8% down on the same quarter of 2019.
"Looking forward through the end of the year, the airline expects the strong Covid recovery trends to continue to overcome the recessionary pressures in the macroeconomic environment," United says. "The airline now expects fourth quarter adjusted operating margin to be above 2019 for the first time."
United Airlines chief executive Scott Kirby says: "Despite growing concerns about an economic slowdown, the ongoing Covid recovery trends at United continue to prevail and we remain optimistic that we'll continue to deliver strong financial results in the fourth quarter, 2023 and beyond."