IndiGo chief executive Pieter Elbers believes Tata Group's involvement in India's airline industry is a positive development for all of the country's carriers, given the maturity it will bring to the market.
Speaking on 3 February as IndiGo outlined a profitable performance for the final quarter of 2022, Elbers – who became chief executive of the low-cost carrier in September last year – highlighted Tata's consolidation moves as being beneficial for the wider sector.
"The fact that there is some consolidation within the Indian aviation landscape, the fact that… the Tatas are taking initiatives for the Indian aviation market, is a good thing," he says.
"It will further mature, it will further develop, which will eventually be a good thing for the market and all the players in that market."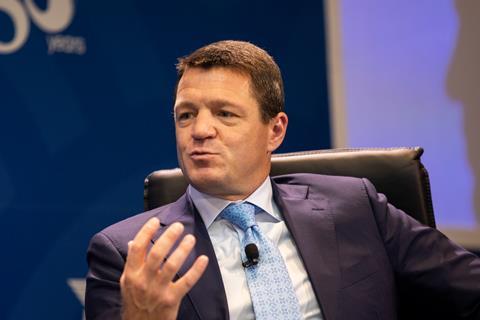 And despite the potential competitive force of an airline group led by a revitalised Air India, Elbers insists IndiGo will continue to "focus on what has been the success of our company in the past 16 years", with "cost-leadership" being the number-one aim.
His comments came as IndiGo achieved a "robust" profit in its fiscal third quarter, on the back of record-high revenue for the period, giving an upbeat Elbers some positive news to convey during his second earnings call as chief executive; the carrier had previously reported three consecutive quarters of losses, as the weak rupee and high fuel costs weighed on its performance during the Covid-19 recovery.
IndiGo's financial performance had previously prompted some analysts to ask whether it lamented not achieving better results while Air India and its related carriers were distracted by their transition to a new ownership structure, and other rivals – such as SpiceJet – struggled with their own challenges.
Today, backed by a better set of financial results, IndiGo is emerging from the pandemic in a commanding position when it comes to capacity in India, with Elbers explaining that it is already operating above pre-Covid levels – and plans to grow in the "high teens" during its next financial year. That is despite it having an unspecified number of aircraft grounded by maintenance delays relating to supply chain challenges, plus further pressure on capacity caused by delays to the delivery of new Airbus A320neo-family jets.
To tackle those ongoing issues, IndiGo is holding on to some of its older A320s for longer than originally intended, Elbers says, and is taking specific action in certain markets, such as the wet-leasing of Boeing 777-300ERs from Turkish Airlines to operate Istanbul flights.
Demonstrating its capacity lead over rivals, Cirium schedules data shows that IndiGo began 2023 as the runaway leader when its comes to capacity on Indian domestic services. In January, for example, its almost 8 billion available seat kilometres (ASKs) across more than 48,000 domestic flights compared with 8,000 flights and 1.4 billion ASKs from the second-busiest carrier, Air India.
When Air India's data is combined with that of Vistara, AirAsia India and Air India Express – reflecting the capacity that falls under Tata control – ASKs were still only half of those offered by IndiGo, across a combined total of around 22,000 flights.
On international services touching India, IndiGo's 10.1 billion ASKs were matched by the four Tata carriers in January, although IndiGo's flight number was much higher, at 53,000 versus 29,000, reflecting its focus on shorter-haul routes.
Elber's predecessor, Ronojoy Dutta, had also welcomed news of Tata Group's potential involvement in the country's airline industry in late 2021, saying of then-state-owned Air India: "Having a large competitor who is funded by taxpayers is not healthy competition for us."
Since coming under Tata ownership in early 2022, Air India has started rolling out a sweeping business transformation plan, which includes the consolidation of Vistara into the flag carrier, and the merger of AirAsia India into Air India Express.
With Air India on the verge of placing a huge order for new aircraft, Elbers says IndiGo is in no rush to follow suit, citing its outstanding commitment for hundreds of A320neo-family jets.