A US court has cleared the recovery plan for Philippine Airlines (PAL), which expects to emerge from a court-supervised bankruptcy process by the end of 2021.
The plan, originally filed on 3 September, was signed off by the US Bankruptcy Court of the Southern District of New York.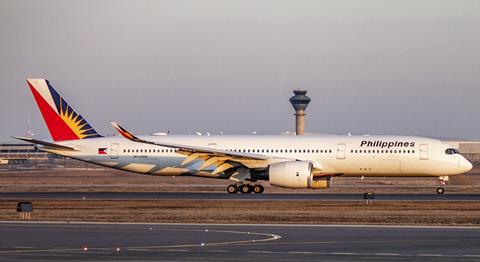 "Today's court approval represents a critical moment in our journey to emerge as a stronger airline," says Gilbert Santa Maria, PAL's president and chief operating officer.
"We are thankful for our loyal customers, dedicated employees, and the support of our shareholders and partners and government, which has enabled us to move efficiently through the process and reach this milestone."
He indicates that there a few more formalities before the airline completes the Chapter 11 process.
PAL says that the plan received complete approval from lessors, lenders, aircraft manufacturers, and MRO providers. Creditors agreed to a $2 billion haircut, while PAL will reduce fleet capacity by 25%. In addition, it provides for $505 million in equity and debt financing from PAL's major shareholder.
PAL and other Asia-Pacific airlines have been heavily impacted by the Covid-19 pandemic, which has all but entirely shut down air traffic in the region – although there are now tentative signs of recovery.
In the quarter ended 30 September, PAL Holdings narrowed its pre-tax losses to Ps5 billion ($100 million) from Ps7.8 billion a year earlier, as it reported stronger revenue.
Revenue grew 64.7% to Ps14 billion, with both passenger and cargo showing a strong year on year performance.
Cash burn from operations remained high, however, with a quarterly net cash outflow of Ps7.5 billion, up from Ps1.7 billion in the third quarter of 2020.