Vietnam low-cost carrier Vietjet Air has signalled that it will receive Boeing 737 Max aircraft from 2024 to 2028, having recently reaffirmed orders for 200 examples.
The carrier made the revelation in an investor presentation for the first half of its 2022 financial year to 30 June.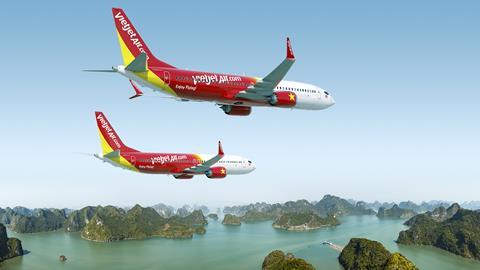 "Vietjet and Boeing [have agreed] to revise the delivery schedule of 200 aircraft [from 2024 to 2028] to fit the company's growth and recovery after Covid-19," says Vietjet.
"[The] new agreement provides more flexibility for [aircraft] deliveries and incentives for parties in taking new Boeing 737 Max aircraft."
When contacted by FlightGlobal, Vietjet offered no further clarification. Boeing referred queries on the matter to Vietjet.
Vietjet's disclosure follows its announcement at July's Farnborough Airshow that it reaffirmed the Boeing orders, with the first 50 aircraft earmarked for its Thailand affiliate, Thai Vietjet Air.
Vietjet's Farnborough statement made no mention of the delivery timeframe.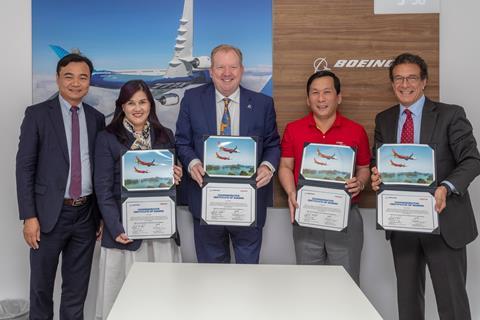 According to Boeing's orders and deliveries data, Vietjet has 200 737 Max aircraft on order. Though Boeing's web site does not specify the variant, previously the companies have indicated Vietjet is obtaining the 737 Max 200 variant – a high density version of the Max 8.
Vietjet's 737 orderbook stems from two orders. In May 2016, airline chief executive Nguyen Thi Phuong Thao signed for 100 737 Max aircraft in the presence of then US President Barack Obama.
At that time, deliveries of these first 100 aircraft were set to take place between 2019 and 2023.
In February 2019, Vietjet confirmed a follow on order for an additional 100 examples, with Nguyen signing the deal in the presence of Obama's successor, Donald Trump.
Vietjet was still to recieve its first 737 Max when fatal crashes in October 2018 and March 2019 caused a global grounding of the type that dragged on for nearly two years. During the grounding, the coronavirus pandemic crushed air travel, further complicating delivery plans for aircraft ordered during the boom times of the 2010s.
As of 30 June, Vietjet's fleet stood at 77 aircraft comprising 18 Airbus A320s, 38 A321s, 19 A321neos, and two A330s.
Airbus deliveries orders data shows that Vietjet also has orders for 138 A321neos. Cirium fleets data indicates that Thai Vietjet operates 10 A320s and six A321s.
Updated: A previous version of this story stated that Vietjet's 737 Max deliveries would commence in 2028. The carrier confirmed this with FlightGlobal. Vietjet subsequently changed its presentation to state that deliveries will take place from 2024-28.