VietJet Air plans to resume passenger service on flights to Japan, South Korea, and Taiwan, starting 29 September.
From Ho Chi Minh City, the budget airline will operate one weekly flight each to Tokyo Narita and Seoul Incheon, as well as Hanoi-Taipei Taoyuan with the same frequency.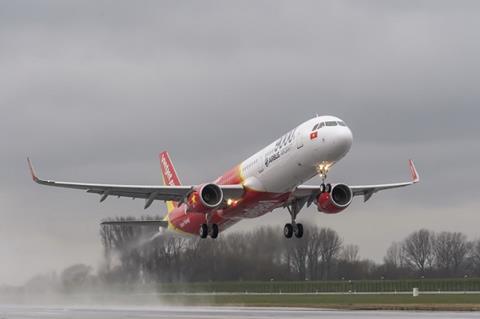 "Passengers departing from Vietnam must have a medical certificate with a negative Covid-19 test result taken within three days before [departure] as well as [comply] with mandatory medical quarantine requirements of the host countries," the airline says in a statement today.
Vietnam has suspended all international flights from 23 March.
Compatriot Vietnam Airlines has also been planning several one-way flights to Japan, flown on Boeing 787s. The full-service carrier intends to resume return flights from Japan, pending approval from the relevant authorities, and is working on resuming flights to South Korea, mainland China, Taiwan, among others.
According to Cirium tracked flights data, in 2019, 85% of tracked passenger flights operated by Vietnam's airlines were destined for domestic airports, at over 263,000 flights. In contrast, there were just 30,700 flights to the top five international destinations. South Korea accounted for 2.7% of total air traffic, followed by Taiwan, mainland China, Japan and Thailand, at 1.5-2% each.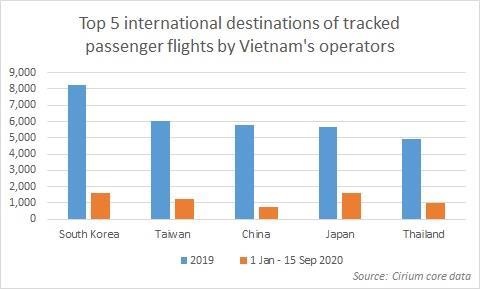 This year, Vietnam's airlines operated about 118,500 passenger flights to domestic airports between 1 January and 15 September, alongside 6,200 flights to the same top five international destinations. Before Vietnam shut borders in March, there were over 1,600 flights to each of Japan and South Korea, more than 1,200 to Taiwan, nearly 1,000 to Thailand and less than 800 to mainland China.