Vietnam Airlines saw its net loss for the third quarter widen to D3.5 trillion ($154 million) from D3 billion a year ago, as the coronavirus pandemic continued to weigh on performance.
After-tax losses for the three months to 30 September also widened, coming in at D2.8 trillion compared with D2.5 trillion a year earlier, according to the airline's results statement.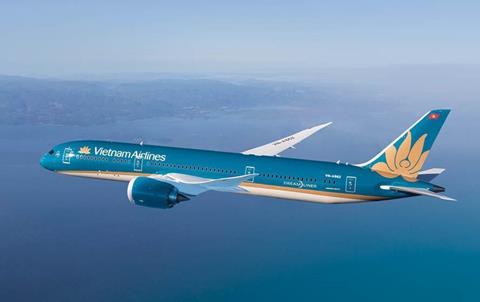 Revenues fell 37.6% to D4.7 trillion.
The carrier attributed its weaker performance to the continued challenge of Covid-19, which has all but shut off international travel to Vietnam. The country's domestic market was also impacted in the middle of 2021 owing to an outbreak of the more infectious Delta variant, which penetrated the country's previously successful 'zero-covid' strategy.
Separately, the carrier announced its first direct flight to the USA, operated with a Boeing 787-9 aircraft.
The service, from Ho Chi Minh City to San Francisco, marks the commencement of twice-weekly service to the US city, using both 787 and Airbus A350s.
Ultimately, the airline aims to operate daily flights on the route once the "pandemic is under control," and also aims to connect Los Angeles to Hanoi and Hoi Chi Minh City.
Like Vietnam Airlines, rival Bamboo Airways has already operated charter services on direct USA routes. It aims to also launch direct schedule services to the USA.
The USA is a critical destination for Vietnam's carriers owing to the large Vietnamese diaspora there.