Vietnam Airlines has signed a credit contract with Vietnam's Southeast Asia Commercial Joint Stock Bank for up to D2 trillion ($87 million).
A part of this amount will be disbursed early this month as working capital lending for production and business activities, "alleviating difficulties faced by Vietnam Airlines due to the Covid-19 pandemic", SeABank says in a statement today.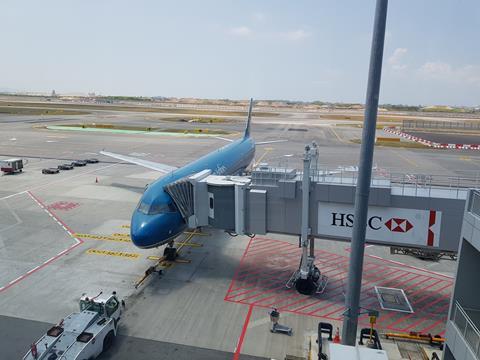 Separately, Vietnam Airlines and SeABank signed a three-way strategic cooperation with local real estate developer BRG Group "on a wide variety of areas to enhance customer experience and contribute to the country's socioeconomic sustainability", according to the same statement.
SeABank, Vietnam Maritime Commercial Joint Stock Bank and SHB Bank had pledged to provide the flag carrier up to D4 trillion in loans, which are to be refinanced without interest by Vietnam's central bank, according to a 21 June report by Vietnamese state media Dan Viet.
The central bank first proposed the loan in March, and this was to be provided through credit institutions.
The cash-strapped airline had on 1 June put up for sale 11 of its oldest Airbus A321ceos to raise cash amid the pandemic, and as part of its programme to replace older aircraft.
Vietnam's Ministry of Planning and Investment had warned that Vietnam Airlines, with D6.24 trillion in debt, was on the verge of bankruptcy and at risk of legal action due to its high level of debt, according to an 18 June report by state-run newspaper Tien Phong.
According to the same report, commercial banks had been unwilling to provide credit to the airline even though the government approved a D12 trillion support package last November.
In a 30 December 2020 filing to the Ho Chi Minh Stock Exchange, Vietnam Airlines said it planned to issue D8 trillion worth of ordinary shares for sale to existing shareholders to boost working capital and pay down debt.
The airline is majority-owned by the Vietnamese government, which has an 86.2% stake, and counts among its shareholders ANA Holdings, which holds an 8.77% stake, according to its 2020 annual report.