Debt-ridden Vietnam Airlines is expected to receive loans totalling D4 trillion ($174 million) from three Vietnamese banks, according to state media reports.
SeABank, Vietnam Maritime Commercial Joint Stock Bank, and SHB Bank have committed to the loans, which are to be refinanced without interest by Vietnam's central bank, according to a 21 June report by Vietnamese state media Dan Viet.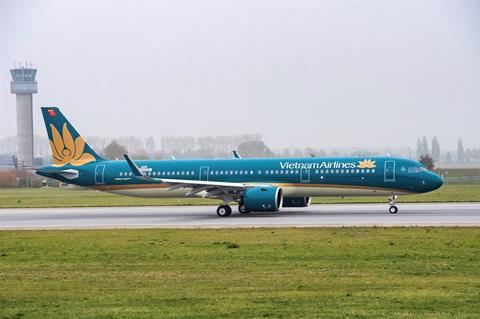 The flag carrier expects to complete negotiations and sign for the loans by the end of June or early July, the same report states.
The central bank first proposed the loan, which it would provide through credit institutions, in March.
The aid comes as Vietnam's Ministry of Planning and Investment warns that Vietnam Airlines is on the verge of bankruptcy with D6.24 trillion in debt, according to an 18 June report by state-run newspaper Tien Phong.
The ministry forecasts that a recovery of the aviation sector is not likely until 2024, the same report states.
Vietnam Airlines, according to the ministry, is at risk of legal action due to its high level of debt. It adds that commercial banks have been unwilling to grant credit to the airline, despite the government's approval of a D12 trillion support package for it in November last year.
In June, the flag carrier put up 11 of its oldest Airbus A321ceos for sale to raise much-needed cash amid the pandemic, and as part of plans to replace older aircraft.
In the first six months of this year, Vietnam Airlines reported a loss of D10 trillion, according to the ministry. The airline is majority-owned by the Vietnamese government, which has an 86.2% stake, and counts among its shareholders ANA Holdings, which holds an 8.77% stake, according to its 2020 annual report.
Meanwhile, privately-held carriers Vietjet and Bamboo Airways, the ministry says, are expected to face difficulties as financial resources run out.
According to a separate 17 June report by English-language news website VNExpress International, Vietjet is also reportedly short of D10 trillion for operational expenses.
The ministry has petitioned Vietnam's prime minister Pham Minh Chinh to direct the central bank to allow airlines to restructure debts and reschedule debt payments as well as reduce its lending rate by 3-5%, according to the Tien Phong report.
It has also asked that the prime minister allow the State Bank of Vietnam to create an interest rate support scheme for private airlines – similar to one already offered to Vietnam Airlines – for loans from 2021 to 2023 to improve their liquidity.
Cirium has contacted Vietnam Airlines, Vietjet and Bamboo Airways for comment.