Vietnam Airlines plans to issue D8 trillion ($350 million) worth of ordinary shares for sale to existing shareholders to supplement working capital and pay down debt.
It expects to complete the issuance within the first six months of 2021, after obtaining regulatory approval, according to a 30 December filing to the Ho Chi Minh City Stock Exchange that details a 29 December meeting of shareholders.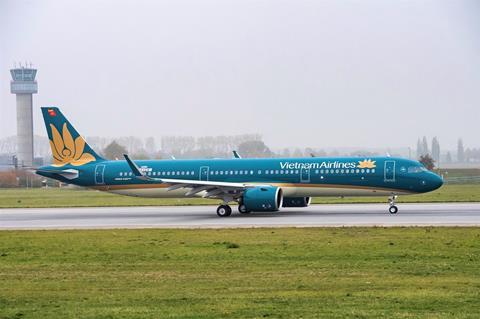 The airline says the issuance will increase its charter capital. In a Vietnamese company, charter capital is the amount that shareholders contribute within a prescribed time limit and can be used as working capital, according to management consultancy Dezan Shira & Associates.
Vietnam Airlines reported charter capital of D14.2 trillion in its 2019 annual report.
The funds raised from selling the new shares will be used for working capital requirements, as well as principal and interest payments on debt.
The airline will coordinate with the State Capital Investment Corporation (SCIC), a state-owned investment fund, to complete the issuance.
In November, the Vietnamese government approved a plan to buy new shares in Vietnam Airlines through SCIC, according to a 29 December Reuters report. Then, SCIC said it could invest up to D6.8 trillion to buy new shares from the airline as part of the support plan.
Vietnam Airlines is 86.2% owned by the government of Vietnam, 8.77% by ANA Holdings and 5.04% by other shareholders, according to its 2019 annual report.
At the same shareholders meeting, the airline's board chairman Dang Ngoc Hoa presented a report calling on shareholders to submit proposals to lend to Vietnam Airlines at preferential interest rates. The loans should have a tenor of three years and be made available in 2021 and 2022, according to the airline's capital needs.
Vietnam's central bank, the State Bank of Vietnam, has been cutting policy interest rates to help companies amid the Covid-19 pandemic, having slashed interest rates three times throughout 2020, according to a 24 December statement on its website.
Vietnam Airlines has been suffering since Vietnam suspended commercial international flights in March 2020 in response to the Covid-19 pandemic.
Deputy minister of planning and investment Tran Quoc Phuong told local media on 4 January that Vietnam is not considering a resumption of international commercial flights while the Covid-19 situation remains severe, according to a same-day report by local English-language media VNExpress International.
The country has also banned flights from countries like the UK and South Africa which have recorded mutations of the virus, the same publication reported on 5 January.
Vietnam has reported 1,497 confirmed cases of Covid-19 and 35 deaths, according to World Health Organization data extracted on 6 January. The country's health ministry said on 2 January that it had found Vietnam's first case of the "VOC 202012/01" variant that was first detected in the UK in October.