Vietnam Airlines will sell its fleet of ATR 72s and seek replacement regional jet aircraft, as part of efforts to improve its competitiveness in the regional market.
The SkyTeam carrier did not elaborate which regional jets it was considering, but has said it will "research and review…the efficiency and cost" of different aircraft types before deciding. 
The decision was made following its general meeting of shareholders on 14 July, where it also disclosed fundraising plans.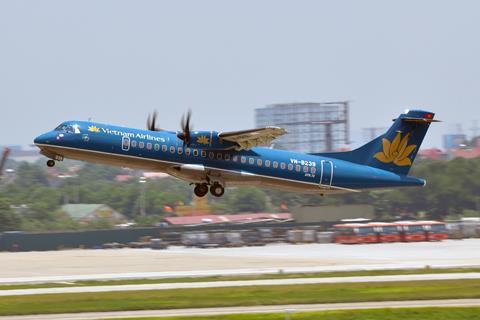 Cirium fleets data indicates that Vietnam Airlines has a fleet of six ATR 72-500s, which entered service with the carrier between 2009 and 2010. Of the six turboprops, five are owned by Vietnam Airlines, while the sixth aircraft is owned by Vietnam Aircraft Leasing Company.
The move to sell the older turboprops comes nearly a month after the carrier issued a tender to sell 11 Airbus A321ceos, which will bring much-needed cash flow to tide through the coronavirus pandemic.
Separately, Vietnam Airlines disclosed plans to raise up to D8 trillion ($347 million) through a share issuance.
The process is expected to complete by the end of the year, and will primarily be used to maintain business activities, Vietnam Airlines chief financial officer Tran Thanh Hien was quoted as saying in news reports.
The carrier slipped to a consolidated after-tax loss of D11.2 trillion, and an after-tax loss of D8.75 trillion, for the year ended 31 December 2020. Air transport revenue plunged 61% year on year, as travel demand collapsed amid the pandemic.
Apart from its latest fundraising effort, Vietnam Airlines in early July signed a credit contract with the Southeast Asia Commercial Joint Stock Bank for up to D2 trillion.
The carrier was reported to also be "seriously" mulling plans to launch a cargo unit to tap into a burgeoning freight and logistics market. A report from VnExpress International quotes Vietnam Airlines chief Le Long Ha as saying that the carrier has had intentions to launch a cargo offshoot "for years", but that it did not find an suitable time.
Vietnam Airlines disclosed that its cargo revenue in June surpassed that of passenger travel revenue, underscoring the importance of its freight operations. To date, seven aircraft, comprising five A350s and two A321s, have been modified for cargo-only operations, the report adds.