Vietnam is suspending various domestic routes to and from Ho Chi Minh City to stem a recent Covid-19 spike in its capital.
Flights between Ho Chi Minh City and the northern coastal city of Vinh have been suspended from 2 July until further notice following a request from Nghe An Province authorities, according to a 2 July circular by the Civil Aviation Authority of Vietnam (CAAV).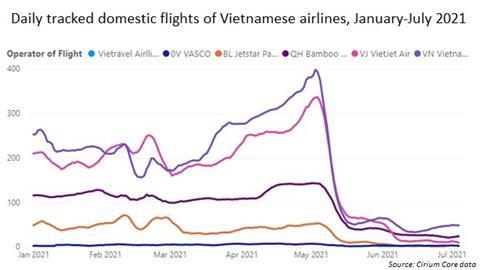 In a 3 July circular, the CAAV says it is proposing to suspend domestic connections between Ho Chi Minh City and central Vietnam's Chu Lai and Phu Bai, starting 4 and 5 July, respectively.
Furthermore, it proposes to suspend all flights to and from Tho Xuan in northern Vietnam from 4 July.
For all flight suspensions, flights transporting medical staff and supplies will be considered by the CAAV upon the airlines' request.
Vietnam has seen an uptick in Covid-19 cases since May, according to World Health Organization data, recording about 2,400 cases from 28 June-2 July and a record high of nearly 800 cases on 26 June.
Cirium data shows that the daily tracked domestic flights operated by Vietnamese airlines have fallen to their lowest levels this year, totalling less than 200 flights per day, down from over 900 flights collectively in early May.