Vinci Airports has agreed the sale of its 90.1% stake in Stockhlm Skavsta airport to Swedish real estate firm Arlandastad Group in a deal set to be completed next month.
Arlandastad is planning to develop 484 hectares of airport land in partnership with the municipality of Nykoping. In relation to this, Arlandastad has signed a deal with Vinci Concessions unit SunMind to develop and maintain a solar farm on the aiprort site.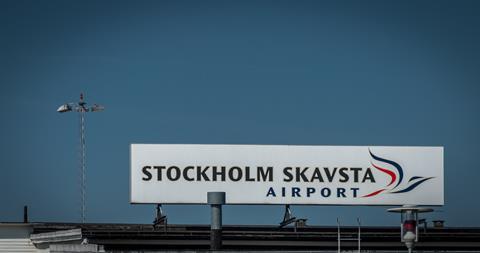 Vinci Airports president Nicolas Notebaert says: "This double success marks both a structuring step for Vinci Concessions' photovoltaic business and the continuation of our airport strategy, based on investing in assets with high growth potential."
Skavsta airport handled 2.2 million passengers in 2019 prior to the pandemic, though passenger numbers were down 73% on this figure in 2021. Ryanair closed its base at Skavsta as part of wider closures during the pandemic and has since opened a new base at Stockholm's Arlanda airport. Cirium schedules data shows Wizz Air is the only scheduled carrier currently serving the airport.
Skavsta is Vinci's only airport holding in Sweden.