Violent protesters have overrun the airport in Arequipa, Peru, causing the airport's operator to close the terminal and airlines to cancel flights.
"Alfredo Rodriguez Ballón airport in the city of Arequipa has been invaded by a group of protesters who have entered through the perimeter fence, destroying the security infrastructure and setting fire to the control booth, which has put the safety of passengers, our team and air operations at risk," airport operator Aeropuertas Andinos del Peru said on 12 December.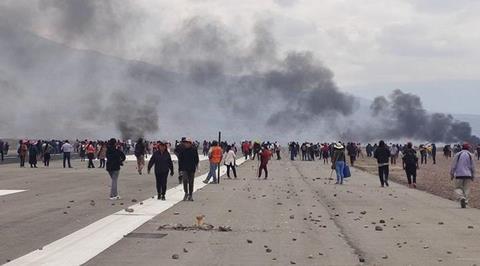 "Faced with this situation, and as part of our security protocol, we have proceeded to evacuate all the people who are in our air terminal and communicate the closure of the airport in order to guarantee the operational security of the airport," the airport authority adds.
Local media report that up to 2,000 protesters had breached the airport's security perimeter. Images and videos posted to social media show people walking on the runway with smoke billowing in the distance.
LATAM Airlines Peru, which operates 12-14 daily flights from Arequipa to the country's capital Lima, as well as a daily flight to Cusco, says that it has "cancelled its flights to and from the city at the moment". Passengers with tickets booked on 12 and 13 December can change their tickets for up to 15 days, the airline says.
"LATAM is constantly monitoring the political situation in Peru to provide the pertinent information according to how it may impact our air operation," LATAM adds.
Chile's Sky Airline and JetSmart also operate to the city, Peru's second-largest.
According to local media reports, thousands of protesters have taken to the streets across the country, calling for the closure of the Congress and the resignation of President Dina Boluarte. Boluarte was installed as President last week after former President Pedro Castillo was ousted.
Castillo had ordered the dissolution of Congress, which then dismissed him for "permanent moral incapacity." Castillo was arrested on charges of rebellion.