Virgin Australia Group will reintroduce 10 Boeing 737-800s into its fleet, as part of a wide-ranging, "fast-tracked" domestic recovery plan which will also see the carrier resume hiring.
Underpinning the Brisbane-based carrier's ambitious growth plans is its anticipation of a domestic travel boom in the coming months, and its commitment to restoring its pre-pandemic market share.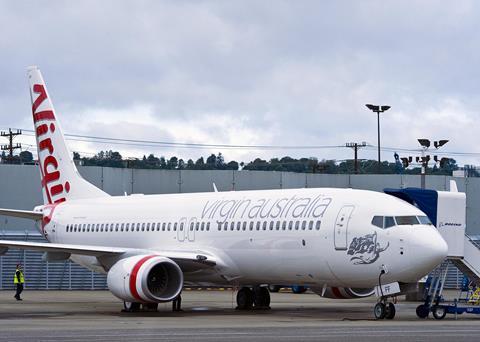 The announcement comes nearly a year to the day sine the carrier filed for voluntary administration, amid crippling losses made worse by the onset of the coronavirus pandemic.
Virgin Australia, which has since exited administration under new owners Bain Capital, now operates a pared-down fleet of fewer 737-800s, having done away with its widebody and turboprop fleet.
The group has "finalised arrangements" to return 10 737s into its fleet for mainline operations, with additional aircraft "under investigation. The aircraft had previously operated with the airline, before they were removed as part of restructuring efforts.
The first three jets will join the fleet in April, with the rest to be introduced through October.
According to Cirium fleets data, Virgin Australia operates a fleet of 39 737-800s and two -700s. Another two -800s are in storage.
Virgin Australia Regional Airlines, the Western Australia-based unit, will move one of its Airbus A320s into mainline operations from Perth from May. The airline operates four A320s, alongside 11 Fokker 100s and a single Fokker 70, Cirium fleets data shows.
The additional aircraft will result in an uplift in capacity — more than 220 weekly return flights will be added to Virgin Australia's schedules by June, including on newly-launched domestic city pairs.
The carrier will also resume trans-Tasman flights from September, as part of travel bubble arrangements set to commence on 19 April. It will operate four flights a week from Brisbane and Sydney to Queenstown.
Virgin Australia group chief executive Jayne Hrdlicka adds that the carrier expects to operate at "more than 80% of our pre-Covid domestic capacity".
Hrdlicka told ABC News separately that the carrier hopes to "get back to 100%" pre-pandemic capacity by the end of the calendar year.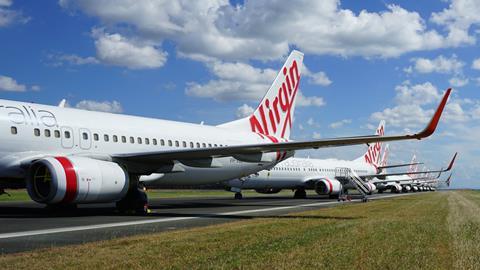 Virgin Australia also announced it would be hiring 150 new cabin crew, and reemploy 220 other staff previously stood down during the coronavirus pandemic.
The rehired staff previously flew with the airline's long-haul international operations, as well as its turboprop regional and now-shuttered Tigerair Australia low-cost operations.
Australia, which has had relative success in controlling the coronavirus outbreak, remains shut off to international travel. The country saw a surge in domestic travel demand in recent months, following a series of inter-state border closures.
The Australian government has also doubled down on its support for the domestic tourism industry, announcing in March a A$1.2 billion ($927 million) support package comprising a mix of domestic airline tickets at half price, business loans, as well as subsidies to "keep planes in the air, and airline workers in their jobs".
Virgin Australia's announcement comes as compatriot and rival Qantas provided a similar business update, outlining plans to ramp up capacity in the coming months.