Virgin Australia's creditors have approved the sale of the carrier to US private equity group Bain Capital, with the full transfer of ownership expected to complete by end October.
At the second creditors' meeting on 4 September, the carrier's creditors voted in favour of Bain's proposal, which will see unsecured creditors receive between 9-13% of their investment, from a pool of funds between A$462 million ($336 million) and A$612 million.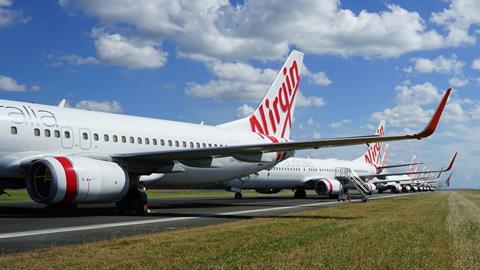 Virgin Australia entered voluntary administration on 21 April, as it sought to recapitalise its business amid mounting losses. In addition, the coronavirus pandemic has torpedoed travel demand and led the carrier to ground its fleet and halt operations.
After the administration news, it was disclosed that the carrier owes nearly A$7 billion to more than 12,000 creditors.
Boston-based Bain Capital won the bid for Virgin Australia in June, some two months after it went into administration.
The 10 deeds of company arrangement, now formally approved, also provide for the "continued employment" of the majority of Virgin Australia employees, with entitlements paid in full, including those who have been made redundant.
The carrier in August said it would axe about 3,000 staff, as it moved towards a post-administration future with Bain Capital. It will also operate only Boeing 737s and focus on domestic and short-haul networks, in an attempt to simplify operations.
Virgin Australia group chief executive Paul Scurrah says the "important outcome… gives us some more certainty around the company's future", and will allow the carrier to "focus on the future", as it exits administration.
"It's vital for Australia to have two major airlines for consumer choice, value airfares and to help support the recovery of Australia's robust tourism sector after this crisis is over," he says.