Virgin Australia, which most recently exited administration under new owners, has placed a new order for 25 Boeing 737 Max 10s, after cancelling its existing commitments for the type.
The airline had held orders for 48 737 Max , including 23 Max 8s and 25 Max 10s, but had repeatedly pushed back deliveries.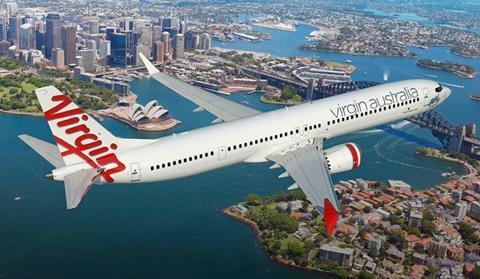 It has now cancelled those orders, and signed a new deal for 25 737 Max 10s, with deliveries to begin in mid-2023. Previously, the airline was to begin taking Max jets in 2021.
"The agreement represents a deep commitment to the future from the airline's new owners, Bain Capital, and will allow Virgin to appropriately manage future fleet requirements amid what has been the worst year in the history of aviation," the carrier says.
"We have already moved to simplify our mainline fleet and committed to the Boeing 737 aircraft as the backbone of our future domestic and short-haul international operations," adds Virgin Australia Group chief executive Jayne Hrdlicka.
The changes come amid a broad overhaul of Virgin Australia, which was purchased by US investment company Bain in November.
As part of post-administration plans, Virgin Australia disclosed in August that it would be operating an all-737 fleet, shedding 777s, Airbus A330s and ATR 72s along the way.
Cirium fleets data shows the airline currently has a fleet of 32 in-service 737-700s and -800s, along with 15 737s in storage.
The US Federal Aviation Administration lifted the grounding of the Max 8 and 9 – the only variants yet delivered – on 18 November.
Boeing rolled out the 737 Max 10 – the largest Max variant – in November 2019. The jet is 1.6m (5ft 3in) longer than the Max 9, can carry up to 230 passengers and has 3,300nm (6,110km) range, according to Boeing. The jet is not yet certificated.
Additional reporting by Jon Hemmerdinger.