Virgin Australia will re-launch services on the Sydney-Canberra route, but will use Link Airways aircraft and crew for the operation.
The service will commence from 30 January 2022, and operate up to 53 times weekly with Saab 340Bs, says Virgin Australia.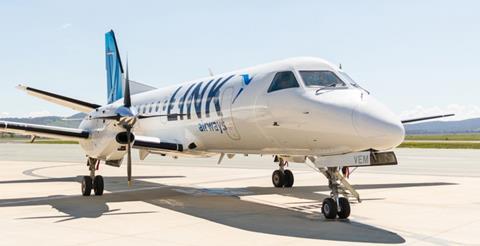 Virgin Australia has not operated between Australia's biggest city and the nation's capital since April 2020, when services were suspended as the coronavirus pandemic crushed air travel.
The carrier adds that the Sydney-Canberra route cannot be served effectively with Virgin Australia's Boeing 737-800s.
Virgin Australia notes that it has launched 15 new services since September, some of them entirely new for the carrier.
"Canberra is a very important destination for Virgin Australia and we're excited to re-launch a Sydney-Canberra service," says Virgin Australia group chief executive Jayne Hrdlicka.
"The service will provide more than 16,000 seats each month between the two cities, which is welcome news for our corporate and leisure customers and particularly those in the government sector who regularly travel to and from Sydney."
Cirium fleets data indicates that Link Airways has 13 in service aircraft. These comprise five Saab 340Bs, four Cessna 441s, three Fairchild Merlin IV/Metros, and one Textron Aviation Beech 58 Baron.
Separately, Air New Zealand reported weak traffic figures for October 2021, a period when the country was struggling with an outbreak of the Delta variant of Covid-19, which affected travel.
The airline carried just 340,000 passengers for the month, down from 690,000 in October 2020. RPKs fell 59.3%, and ASKs 5.9%. Load factors were also weaker, dropping 9.2 percentage points to 50.2%.