India's Vistara has for the first time become the country's second largest domestic carrier by market share, edging out low-cost compatriot SpiceJet.
According to traffic data from India's Directorate General of Civil Aviation (DGCA), Vistara carried just over 1 million domestic passengers in July, giving the Tata Sons joint venture about 10.4% of market share.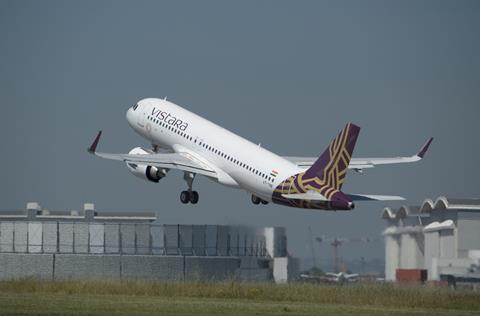 The lion's share of the market went to low-cost operator IndiGo, at nearly 59%. SpiceJet, which has been the second largest domestic carrier for the past six months, slipped to fifth place with 8% of market share.
Air India, the only other full-service carrier in the country, was third largest at 8.4% market share, followed by Go First with 8.2%.
The data, compiled monthly by the DGCA, comes as travel demand within and out of the country continues to skyrocket.
It also comes as the Indian airline market experiences a series of significant changes, including the entry of new low-cost operator Akasa Air, which began operations in early August, as well as the possible revival of now-shuttered Jet Airways.
IndiGo has also come under new leadership, with former KLM chief Pieter Elbers helming the carrier. Air India, now privatised under new owners Tata Sons, is now led by ex-Scoot CEO Campbell Wilson. Both carriers have indicated plans to expand operations in the coming months.