Mexican low-cost carrier Volaris lifted revenues a fifth in the third quarter as its strong growth continues, but higher fuel costs hit its profits for the period.
Volaris' revenues climbed to $769 million for the three months ending 30 September 2022. That was achieved on a 22% year-on-year increase in passenger numbers to 8.1 million.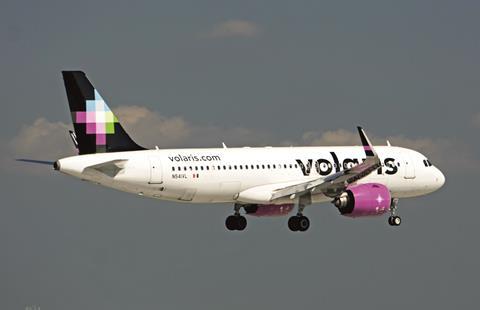 It marked further growth for a carrier that has recovered quickly from the pandemic, as Mexican operators benefited from borders remaining relatively open. Volaris' revenues were 59% higher than in the third quarter of 2019 and it carried 2.5 million more passengers.
However, Volaris' total operating costs increased 52% compared with the third quarter of 2021, driven by a 72% surge in average fuel costs.
As a result, operating profits slumped by 78% to $35 million, while net profit halved to $40 million.
Volaris chief executive Enrique Beltranena says: "We have consistently anticipated strong demand in our visiting friends-and-relatives and leisure markets – markets which show no signs of a slowdown. ASMs [available seat miles] grew by 22% for the third quarter compared to 2021 and by 48% compared to 2019.
"While typically we see load factor peak in July and reductions towards the end of Summer, [but] in this year our load factors increased every month in the third quarter, from 84.7% in July, to 84.9% in August, and reached an all-time monthly record high of 87.4% in September."
He adds: "Forward bookings are solid, and we expect to maintain a strong load factor for the remainder of the year, while CASM [cost per available seat mile] ex-fuel for the third quarter was under control despite inflationary pressures."