AirAsia X swung back to profitability in its latest quarterly earnings, helped by strong recovery in passenger traffic amid "significant consumer demand".
The medium-haul affiliate of AirAsia Aviation Group, which emerged from restructuring this year, swung to a net profit of MYR25.1 million ($5.5 million) for the three months to 30 September.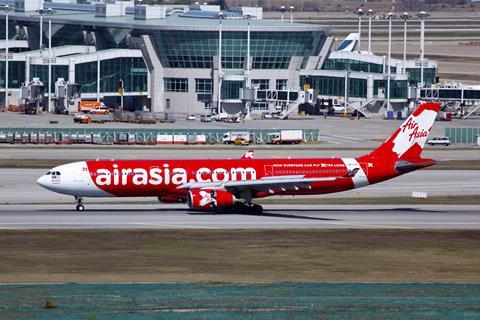 The result – its first net profit in three years – compares to the MYR653 million net loss it reported in the previous quarter. It was also in the black at the operating level, posting a MYR27.6 million operating profit for the quarter.
Revenue dipped slightly to MYR100 million, compared to the previous quarter's MYR107 million. AirAsia X says this is due to a drop in cargo revenue as the airline resumed passenger flights.
Owing to a change in its financial year, the carrier did not provide figures for a previous corresponding period in 2021.
However, financial results for the same quarter in the year-ago period shows the airline was mired in steep losses: it posted a net loss of MYR149 million, while its operating losses amounted to MYR137 million.
AirAsia X carried close to 81,000 passengers during the period, a ten-fold rise quarter on quarter. It also saw a four-fold increase quarter on quarter in seat capacity.
In comments made alongside the financial results, AirAsia X chief Benyamin Ismail was bullish about the carrier's prospects.
"[AirAsia X] is now well on track in its recovery path even as the airline is compelled to operate in a challenging operational environment dictated by high fuel prices and a weakened Malaysian Ringgit against the US Dollar. While we are cautious of the strenuous operating conditions, we remain confident that the recovery of the company is on the horizon, if not already within our reach," he says.
Following the completion of restructuring, the airline has zeroed in a medium-haul network strategy, and has in recent weeks announced a series of route launches, including to Auckland, Perth, as well as Jeddah.
AirAsia X group chairman Mahmood Fawzy says: "As we undertake the strategy to focus on flying our most popular and historically-proven profitable routes first, we are very much pleased to report that the [group] is riding high on the robust demand for affordable mid-range travel across the region."
Adds Ismail: "Following the most challenging period in commercial aviation history, we are back indeed, stronger than ever. We look forward to welcoming everyone back onboard with us as we rise up to meet the strong pent-up demand for medium haul air travel across Asia."