Long-serving Qantas chief Alan Joyce struck a markedly contrite tone as he admits the airline had fallen short of customer service standards, but was – perhaps unsurprisingly – defiant that the recovery is taking place "faster than we expected".
In prepared comments released alongside full-year financial results, Joyce quickly acknowledged the "extremely challenging time for the group, for our people, and – unfortunately – for our customers", as he alluded to the operational snares confronting the carrier in recent months.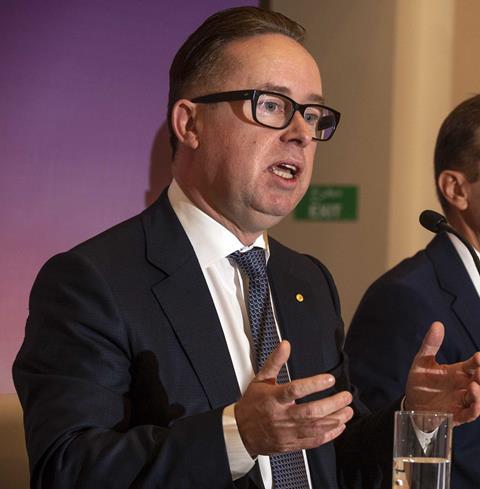 From long call centre waiting times, to frequent delays and cancellations, to mishandled baggage, the Oneworld carrier has come under flak for its subpar service standards, as it struggled to cope with a surge in demand.
Then there is the threat of industrial action from staff unions, alongside a growing chorus of calls demanding Joyce's resignation.
The airline suffered a steeper underlying loss for the year to 30 June, with combined losses for over two years of the pandemic amounting to an eye-watering A$7 billion ($4.9 billion).
Speaking on 25 August, Joyce offered his apologies for the travel chaos over the past few months, stating: "We're the first to admit we haven't gotten everything right lately."
He showed no sign of backing down – but painted the airline's operational woes as something the industry at large had to go through.
As Joyce puts it: "The pandemic has tested everyone…and aviation has been sorely tested."
The pandemic, he says, was partly to blame for the airline's service issues. "We knew the recovery was coming and we were ready for the restart. What we weren't ready for – after 18 months of COVID being supressed – was such high levels of community transmission and the sick leave that followed," he adds.
Almost immediately, Joyce was quick to point out the issue is sector-wide and by no means unique to Qantas.
He notes that the quick rebound in travel "coincided with a massive labour shortage", which he again says is a "same story at airlines and airports around the world".
Qantas was among several global carriers to have laid off staff amid the pandemic, and is struggling now to rehire as travel reboots. The labour shortfall has led to many well-publicised issues at the carrier.
Says Joyce: "It simply wasn't good enough, and for that, we have apologised."
To this end, Joyce says it is quickly recruiting people and will continue to do so through this year. It has had to cut domestic capacity to "buffer" against the labour crunch, and will be investing in technology to help ease airport wait times.
On flight delays, Joyce is confident Qantas will attain pre-pandemic on-time performance – at around 80% of all flights – by September. The airline's punctuality record plunged to a new low of 52% amid its operational woes, and is now around 66%.
The airline has also pledged over A$400 million to beef up customer loyalty, on top of another A$200 million for a "non-executive recovery boost payment" and share rights for over 1,700 employees.