Toronto-based Onex Corporation will complete its buyout of Calgary-based WestJet Airlines for C$5 billion ($3.8 billion) including the carrier's debt following final regulatory approval of the deal by the Canadian Transportation Agency.
In a 11 December statement Onex says WestJet shareholders will receive C$31 per share during the buyout but won't receive a quarterly dividend of 14 cents per share this month because the deal has closed before 18 December.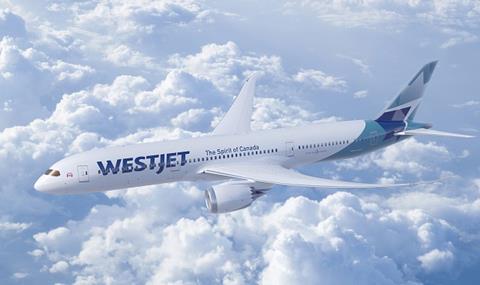 The full terms of the private equity deal have not been disclosed. The total equity investment by Onex itself is approximately C$345 million. An affiliate formed by Onex called Kestrel Bidco will own all of WestJet when the deal closes. In July, Kestrel Bidco said it was seeking to raise $2.4 billion in debt to fund the buyout.
The change in ownership will bolster WestJet's plans to expand its network of international routes and it will also decrease reporting transparency now that it is a privately-owned carrier. WestJet says its common shares will be delisted from the Toronto Stock Exchange "within a few trading days".
Onex spent months coordinating with regulators after proposing to lead a buyout in May.
Earlier this year, Cowen airline analyst Helane Becker had estimated that WestJet's revenue for the full 2019 fiscal year would be C$5.1 billion, and projected revenue of C$5.37 for the full 2020 fiscal year.
Onex chairman Gerry Schwartz built his firm's aviation focus over two decades despite some high-profile failed bids. In 1999, Schwartz and backers at American Airlines parent AMR Corporation abandoned a hostile bid to acquire Air Canada and merge it with Canadian Airlines following an unfavorable ruling by the Canadian courts. Onex was also part of a failed group bid for Australia's Qantas Airways in 2007.
The private equity firm acquired aerostructures manufacturer Spirit AeroSystems in 2005 and took it public in November 2006, eventually selling its remaining stake in 2014.