Central European budget carrier Wizz Air plans to establish a Maltese airline later this year.
Wizz says it intends to file an application for a Maltese subsidiary following the signing of an agreement between European aviation regulator EASA and Malta's civil aviation directorate.
Pending approvals, Wizz Air Malta hopes to begin operations with Maltese-registered aircraft in October.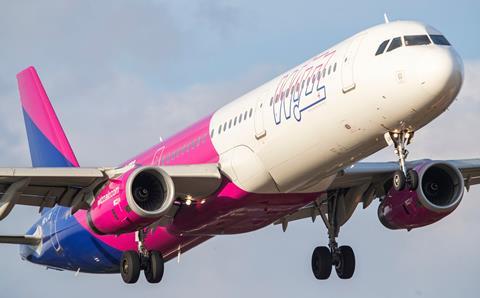 Wizz in August 2020 brought its operations under EASA as its single safety oversight authority, a move aimed at enhancing supervision carriers established multiple bases within the EU.
The Hungarian-based low-cost carrier group already has a UK operation, established to ensure continuity of services amid the UK's departure from the European Union, as UAE-based operation Wizz AIr Abu Dhabi as well as its Wizz AIr Ukraine unit, which suspended operation in light of Russia's invasion of the country.
Wizz Air chief executive Jozsef Váradi says: "Wizz Air is constantly evaluating the structure of its business and exploring options to establish new AOCs and bases in Europe and beyond. The successful establishment of Wizz Air Malta later this year will help to reinforce our strong position and support our expansion plans in Europe."
EASA executive director Patrick Ky says "This will be a new step in the already well-established cooperation between the agency, the Maltese Civil Aviation Directorate and Wizz Air.
"This new set-up, where one group will operate multiple AOCs based in different member states, but overseen by the same competent authority, demonstrates the possibilities available through the transfer of responsibilities to EASA. We are looking forward to working together on the issuance of this brand-new AOC and the subsequent oversight activities."
Malts has seen a number of airline units established in recent years. Irish carrier Ryanair already has a Maltese operation, Malta Air, while last summer UK carrier Titan Airways established a European Union arm after securing an AOC in Malta.