United Airlines has served notice to its US competitors, and to Boeing, that it will not put its middle-of-the-market ambitions on hold.
Its order of 50 Airbus A321XLR aircraft will go a long way toward meeting its previously stated need to replace its aging fleet of Boeing 757-200 aircraft with efficient, modern aircraft that can help it expand its intercontinental network.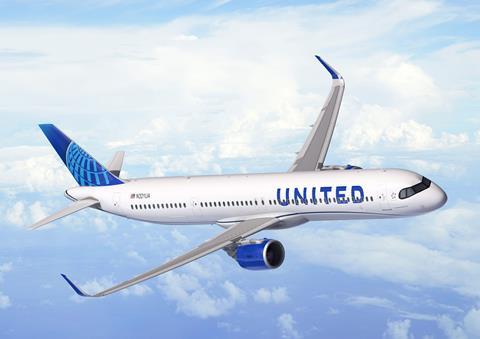 United, along with other US carriers, had been waiting for Boeing to reveal details about its proposed New Mid-market Airplane (NMA), a widebody aircraft with up to 270 seats and a 4,000-5,000nm (7,400-9,300km) range.
The Chicago-based airline tells Cirium that despite the order of the fuel-efficient, single-aisle A321XLR, it does not rule out considering Boeing's NMA, should it ever launch.
"We have been looking for Boeing 757-200 replacements for quite some time," United says. "Boeing currently does not have an aircraft equivalent to the A321XLR to meet our specific operational needs. We will take a look at the NMA."
While United might still be interested in Boeing's NMA, as of 3 December the A321XLR order reduces by 50 the number of aging, gas-guzzling aircraft Boeing could potentially replace.
Boeing remains mired in its efforts to recertify its grounded 737 Max and it could miss other opportunities to replace 757s flown by other US carriers, some of which may find the appeal of middle market aircraft too hard to resist.
"Airlines are intrigued by the possibilities of this middle market," Teal Group analyst Richard Aboulafia tells Cirium. "It opens up so many new route options. And right now the only thing available with any certainty is the 321XLR."
The potential of efficient middle-market aircraft to expand existing transcontinental routes and create new intercontinental routes, and the desire for US carriers to have an alternative to the A321XLR, may end up breathing new life into Boeing's NMA – it just may not be the NMA as originally conceived.
Aboulafia, who has his doubts about the NMA at this point, says the operational and manufacturing efficiencies of a single-aisle aircraft are much greater than that of a twin-aisle like the proposed NMA. "I'm increasingly thinking Boeing needs to do a single-aisle," he says. "But no matter what they do, all airlines will look closely at it. And there's nothing about United's decision to buy 50 321XLRs that rules out a secondary buy of a Boeing jet."
United disclosed its A321XLR order – its first order of narrowbody Airbus aircraft since 2006, according to Cirium fleets data – two days before the 5 December announcement that United president Scott Kirby will succeed Oscar Munoz as chief executive. Taken together, the two significant developments could send a message to Boeing that, for new leadership at United, the Airbus order may be just the beginning of large-scale investment in middle-market aircraft.
THE MARKET FOR THE NMA
Once the 737 Max returns to service, Boeing may very well focus on competing directly with the A321XLR, but it won't be easy, given the Airbus aircraft's versatility.
"We all focus on the longer range of the A321XLR," says Rob Morris, global head of consultancy at Ascend by Cirium. "But what this variant really offers is the ability to guarantee the highest payload of up to 240 seats at ranges that previously would have seen significant payload restrictions for other variants of the A321neo. In the fullness of time I expect the A321XLR to become a very significant seller and member of the A320neo family."
Morris says the longer Boeing is unable to make a launch decision for the NMA, the more the risk to its business plan as more customers commit to A321XLR, although in the context of the 757 only Delta Air Lines operates a sizable fleet that could be replaced with the A321XLR or the NMA.
Delta Air Lines has 127 757s in its fleet, with an average age of 22.3 years, according to Cirium fleets data.
"The story is quite different for Boeing's 767, where there are presently still almost 50 operators and more than 400 passenger aircraft still in service which could be NMA replacement targets," says Morris. "Add on A330-200 and some growth opportunities, and there is still some market potential for the NMA."
Echoing Aboulafia, Morris suspects "we will never see an NMA launch in the format that we presently perceive the aircraft."
In October, FlightGlobal reported that a passenger 767-X development is part of a project to re-engine the 767 Freighter, which Boeing is examining as a cheaper, lower-risk alternative to developing the NMA, which would be a clean-sheet design powered by next-generation engines.
Airlines seeking a middle-market competitor to the A321XLR may be wondering if Boeing has the wherewithal to fight back but, right now, as Aboulafia says: "It's good to be the A321."
This article was written by Steve Goldstein, a New York-based writer who is part of the Cirium reporting team