Turkish Airlines chief executive Bilal Eksi and former Ethiopian Airlines chief executive Tewolde GebreMariam were among senior industry leaders recognised at this year's Airline Strategy Awards on 17 July.
The awards – which have been held since 2002 – recognise individuals, airlines and companies supporting air transport that have demonstrated dynamic leadership and clear vision.
The other individual winners on the night were Korean Air chief executive Walter Cho, Sun Country Airlines chief executive Jude Bricker, and Allegiant Air's Maurice Gallagher and John Redmond. Airline awards went to Air France-KLM, Norwegian and United Airlines.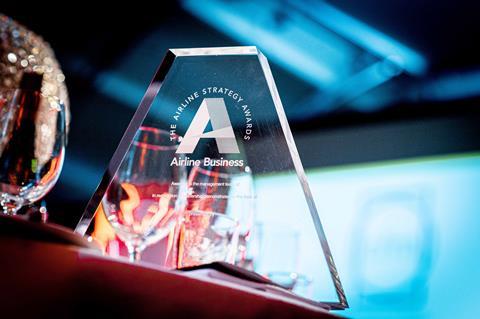 Eksi received the 2021 Executive Leadership Award in recognition of the Istanbul-based flag carrier's standout performance over the past two years, as it demonstrated both resilience and strategic nous. Judges were particularly impressed that the airline was able to return to the black in 2021 and continue that profitable run into 2022, driven by a recovery in passenger segments and a continued strong performance in the cargo sector.
Judges further noted that despite the huge challenges created by Covid-19, Eksi retained a focus on realising the potential created by the carrier's relatively new transit hub in Istanbul, while keeping a close watch on cost control, maintaining a wide network of destinations and a diversified passenger segment, and instigating careful capacity management.
"Skilled leadership means Turkish Airlines is emerging from the pandemic in a stronger financial and operational position than most of its network-carrier peers," said Airline Business editor Lewis Harper.
GebreMariam received the prestigious Airline Business Award to recognise his achievements over an 11-year spell at the helm of Ethiopian Airlines, during which he showed skill across a range of disciplines, from crisis management through to long-term strategic planning.
Between GebreMariam taking charge in 2011 and 2019, Ethiopian quadrupled in size, growing from a fleet of 33 aircraft carrying three million passengers to a fleet of 130 aircraft carrying 13 million passengers, as it became a gateway to the African continent.
When he stepped down earlier this year, GebreMariam handed over an airline that is a rare case study in making a success of operations on the African continent.
"GebreMariam has shown true leadership in a region where success is hard to come by at the best of times. Under his watch, Ethiopian was not just the envy of other African carriers – it had admirers from all around the world," said Harper.
The full list of 2022 winners, by category, were:
Executive Leadership: Bilal Eksi, Turkish Airlines
Sector Leadership: Jude Bricker, Sun Country Airlines
Low-cost Leadership: Maurice Gallagher and John Redmond, Allegiant Air
Air-cargo Leadership: Walter Cho, Korean Air
Innovation & Transformation: Norwegian
Environment, Social & Governance: United Airlines
Diversity & Inclusion: Air France-KLM
The Airline Business Award: Tewolde GebreMariam
The Airline Strategy Awards event is organised by FlightGlobal in partnership with the civil aviation practice of Korn Ferry, the largest human-capital solutions provider in the world.
The recipients in six award categories – Executive, Sector, Low-cost and Air-Cargo Leadership, plus Innovation & Transformation and ESG – are selected by an independent panel of industry experts. The recipient of the Diversity & Inclusion award is decided by the Airline Business and Korn Ferry teams, with input from the judging panel. Airline Business also presents its own award, recognising an individual making a lasting strategic contribution to the industry.
Key sponsors of the awards include CFM International, Cirium, Collins Aerospace, Orlando International Airport, Pratt & Whitney, SmartKargo, Tampa International Airport, Volantio and Panasonic.