Airbus believes it can secure a major fleet order for its ACJ TwoTwenty, which is appearing at an air show for the first time.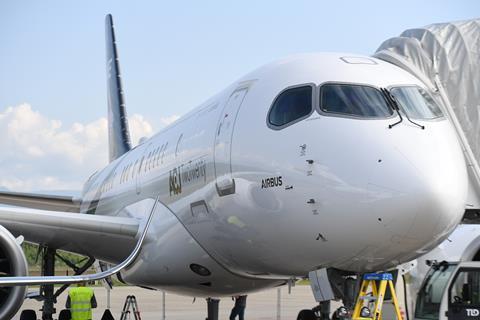 Speaking at EBACE, Chadi Saade, vice-president commercial for Airbus Corporate Jets, described as "an amazing value proposition" the type, which Airbus launched in 2020 shortly after taking ownership of the former Bombardier CSeries programme.
"We're convinced we'll receive a major fleet order from an operator like NetJets or Flexjet at some time," he says.
The example on show is the first ACJTwoTwenty, which Comlux Completions delivered to launch customer, Dubai-based Five Hotels & Resorts, in April. The Swiss company has an agreement with Airbus to install the interiors on the first 15 aircraft.
Saade says that having the aircraft at EBACE is likely to spark considerable interest. "Customers just want to touch and experience it, which they haven't been able to do up until now," he says.
Comlux will hand over its second outfitted aircraft to an unnamed customer by early 2024, with two more green examples due to arrive at the company's completions unit in Indianapolis late this year and the following spring.
Chief executive Richard Gaona says potential customers from "all over the world" are showing interest in the corporate jet version of the A220-100 airliner. Airbus has an eight-strong backlog for the ACJ TwoTwenty, having delivered the first aircraft.
Comlux installed the first VIP interior over 14 months, but Gaona expects subsequent projects to take less time.
"Our goal is to deliver the second aircraft in 12 months and progressively move to eight months," he says.
Gaona also expects Comlux's 12,000sq m (129,000sq ft) maintenance facility at Dubai's Mohammed Bin Rashid Aerospace Hub to be operational by the end of the year.
As well as offering covered parking, line maintenance and AOG (aircraft on ground) services, the site will include a showroom where Comlux will display cabin concepts and host customers, says Gaona, a former Airbus veteran who has run Comlux since 2007.
While the facility will offer cabin refurbishments, Gaona has no immediate plans to mirror the Indianapolis operation by offering full outfitting. However, he notes: "Diversification has driven my career at Comlux, so why not at some point move up to completions?"
Airbus also announced yesterday its first order for the ACJ330neo, to an unnamed customer. The manufacturer launched the corporate version of the re-engined widebody in 2017. It will deliver the first example to a completion centre in 2025.
It is doubtful if that completion centre will be Comlux. Comlux Completion delivered its first VIP widebody cabin completion – an ACJ330 – in 2019. However, Gaona doubts the company will bid for further projects on aircraft that size.
"The widebody [corporate jet] market is disappearing, and the number of widebodies in the future will not be as many as we have seen in the past 20 years," he says. "We are not really organised today to tackle that market."