Airbus Corporate Jets (ACJ) sees a booming US business jet market as offering the perfect sales opportunity for its family of VIP airliners, particularly the ACJ TwoTwenty.
Research commissioned by the airframer, alongside analysis of Wing X data, paints a picture of a sector enjoying a period of strong growth – one that appears set to continue as US corporates increasingly turn to business aviation for their transport requirements.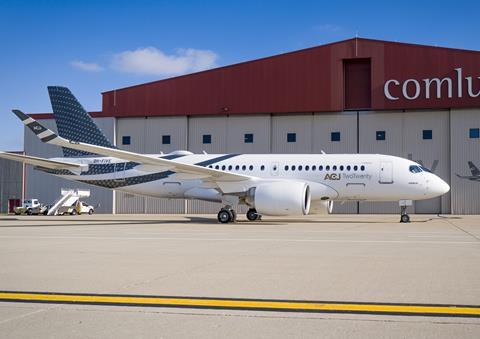 Figures from aviation data provider Wing X reveal there were around 2.76 million business aircraft departures in the USA during the first eight months of 2022 – a rise of 12.3% over the same period in pre-Covid 2019. Increases in activity were observed during every month of the period against the corresponding months in 2019.
And, according to ACJ's survey of 53 high-level executives at US stock market-listed companies, the surging interest in business jet use is set to continue.
In all, 72% of respondents said they expected their organisations to make greater use of business aviation in the period to 2024, with 34% anticipating a dramatic increase in use.
Chadi Saade, vice-president commercial at ACJ, sees that interest in business jet use translating into higher demand for its aircraft.
In particular, as US corporates look to replace their existing fleets, they will turn to the A220-based ACJ TwoTwenty given its size, range and list price, Saade argues. "It clearly positions the TwoTwenty in a sweet spot whereby it is the only aircraft that enables you to upgrade while keeping intercontinental range," he says.
"The others will continue selling, but I'm really optimistic to see more and more American VIPs going to the TwoTwenty."
He also sees strong potential to sell the A220-300 in an all-business-class configuration for the transportation of large groups such as sports teams.
Saade says ACJ has performed well in 2022, selling five aircraft so far – two TwoTwentys and three ACJ320neo-family jets. "I'm very optimistic that it's going to increase in the next few weeks," he adds.
"We are already at five, so if we finished the year at seven or eight I'd be delighted. And who knows, maybe more."

Dominic Perry is deputy editor of Flight International but also contributes extensively to flightglobal.com. Although specialising in the coverage of the helicopter industry, he has written on most topics in aerospace – be they commercial, defence or business aviation. In addition, there has been an increasing focus on the decarbonisation of the industry and zero-emission flight initiatives.
View full Profile