Archer Aviation's in-development Maker electric vertical take-off and landing (eVTOL) aircraft has flown for the first time.
Palo Alto-based Archer says its two-seat demonstrator completed a hover flight on 16 December at 10:30 local time at its California test facility.
The short flight "resulted in the successful checkout of the company's flight-control system in flight and the end-to-end close of flight software", Archer says.
The company did not disclose any further details, such as the duration of the flight or the altitude reached.
"The past six months have been an incredible journey, from unveiling Maker to watching it take its first flight," says Brett Adcock, Archer co-founder and co-chief executive. "It's been humbling to build a leading eVTOL company and educate the public on clean transportation alternatives." He calls it a "milestone for both Archer and the future of travel".
Adam Goldstein, co-founder and co-CEO adds that the flight proves that "Archer can work at a fast pace without sacrificing safety or quality. Our team stands ready to continue that pace as we work toward launching an aerial ride-sharing service in late 2024."
The Palo Alto-based company says Maker's test campaign will now "broaden to include hover envelope expansion, advancing Maker's design capabilities and reaching higher altitudes". The team also will ensure the aircraft is capable of transitioning from hover to forward flight.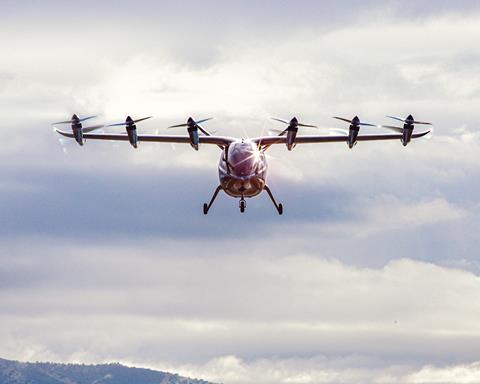 On 2 December, the Federal Aviation Administration issued a special airworthiness certificate, allowing Archer to begin flight testing Maker.
Archer introduced the demonstrator in June. The company says the aircraft, which has 12 wing-mounted rotors and 52nm (96km) of range, can cruise at up to 130kt (241km/h).
It aims to unveil a four-seat version in 2022 and anticipates having that certificated for passenger operations by 2024.
In February, United Airlines said it would take 200 of the in-development aircraft in a deal worth up to $1 billion.
Archer and Mountain View-headquartered competitor Wisk have been locked in an increasingly acrimonious legal battle about intellectual property since April.
Boeing-backed Wisk sued Archer, alleging patent infringement and trade secret theft. Wisk claimed outgoing employees – bound for Archer – stole design documents, which they turned over to Archer. Wisk is also developing an eVTOL for urban air mobility use.